White, Youngblood to Perform Junior Recital March 28
March 19, 2013
OBU students Breana White and Elizabeth Youngblood, both sopranos, will perform their junior recital Thursday, March 28, at 7:30 p.m. in Yarborough Auditorium in Raley Chapel on the OBU campus. The community is invited to attend.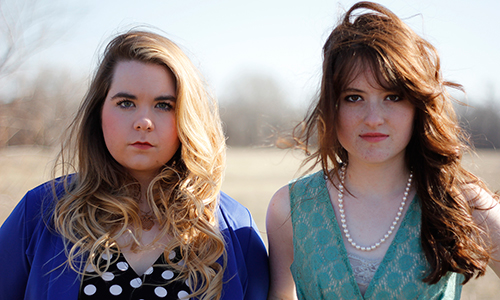 White is a musical arts major with a voice emphasis from Broken Arrow, Okla. The daughter of Brent and Jill White, she is from the studio of Dr. Mark McQuade, assistant professor of music.
Youngblood is a vocal performance minor from Midwest City, Okla. The daughter of Lee and Wendy Youngblood, she is from the studio of Dr. Jennifer McQuade, assistant professor of music.
During the performance, the vocalists will be assisted by Dr. Keith Whitmore, staff accompanist, on piano and Sarah Gore, an OBU sophomore from Bartlesville, Okla., on violin.
The recital will include works by Händel, Wolf, Marx, Whitacre, Bock and Guettel, performed by White, as well as works by Verdi, Schumann, Mendelssohn, Händel and Dvořák, performed by Youngblood.
During her time on Bison Hill, White has been named to the President's Honor Roll and Dean's Honor Roll. She is a member of Campus Activities Board and Sigma Alpha Iota. Her performances include appearances as Barbarina in Mozart's "The Marriage of Figaro"; Meg in "Brigadoon"; Shulie in "School House Rock Live!" She also has appeared in two travelling opera productions, "The Lantern Marriage" and "Fortune's Favorites." Following graduation, she hopes to become a voice teacher and theatre director.
At OBU, Youngblood has served as president of the Bisonette Women's Glee Club. Her performances have included appearances as Tracy Turnblad in "Hairspray"; La Badessa in "Suor Angelica"; Romeo in a scene of "I Capuleti e i Montecchi"; and Anna Maurrant in the upcoming production of "Street Scene." Youngblood was awarded an Encouragement Award in the 2013 Metropolitan Opera National Council Auditions. Following graduation, she plans to attend graduate school while furthering her vocal performance endeavors.
The audience is cordially invited to attend a reception in Raley Chapel Room 142 immediately following the recital.
For more information, contact OBU's Division of Music at (405) 585-4301 or email music@okbu.edu.