Professor Emeritus Max Brattin Dies at 75
March 22, 2013
Max A. Brattin, professor emeritus of economics at OBU, died March 21. He was 75. Brattin was a member of the OBU faculty from 1966 until retiring in 2000.
He was born March 15, 1938, in El Reno, the son of Merle A. and Mona Day Brattin. He attended schools in Yukon, McLoud and Putnam and graduated from Mulhall High School in 1956. He received the B.S. degree in business from OBU in 1960 and the MBA degree from Louisiana State University in 1962. Brattin taught at Howard Payne University from 1963-66 before joining the OBU faculty.
Highly involved in university life, Brattin served on the Faculty Council 15 years, including three terms as chair. He was chair of the Curriculum Committee two terms and was Faculty Athletic Representative 12 years. He received OBU's Distinguished Teaching Award in 1984 and the Phi Beta Lambda Teaching Award in 1989. Brattin was inducted into the OBU Faculty Hall of Fame in 2010.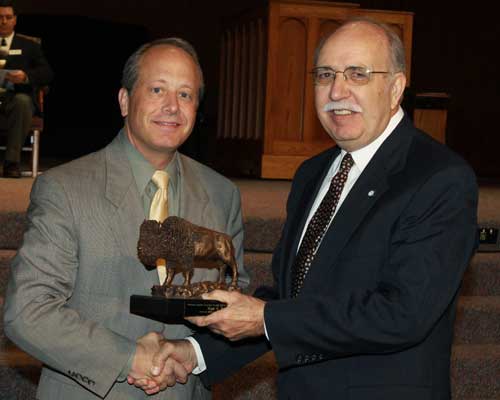 During his OBU tenure, he served as advisor for several student organizations, including Sigma Delta Phi, Delta Mu Delta, Phi Beta Lambda, Omicron Delta Kappa and Mortar Board.
He was a member for two years of the Faculty Advisory Committee of the Oklahoma State Regents for Higher Education.
A member of Shawnee's First Baptist Church since 1966, Brattin had served as chairman of the deacons, chairman of the Finance Committee, church clerk, Sunday School teacher and choir member. He had served several terms as a trustee of the OBU Authority and was a trustee of the Southern Baptist Convention's Annuity Board from 1979-87. He also was a consultant to the Baptist Foundation of Oklahoma's Investment Committee.
In the Shawnee community, he had been a member of the board of directors of the Shawnee Little Theatre and the Pioneer Library System. From 2006-12, he was a reader in Leesa Adams' fourth-grade class at Sequoyah School. He also was a member of the Silverbacks, a retired OBU faculty reading group.
Brattin was preceded in death by his parents Merle and Mona Brattin; a sister, Mona Lu; and a brother, Bruce D.
Survivors include his sister-in-law, Kathryn Brattin; nephews David, Kevin, and Mark Brattin; niece Janice Brattin; and many friends.
A memorial service is scheduled for 6:30 p.m. Tuesday, March 26, at First Baptist Church, Shawnee. Memorial gifts may be made to the Max Brattin Scholarship Fund or the Max Brattin Fine Arts Fund at OBU.