Tickets on Sale for 'Schoolhouse Rock Live!'
February 28, 2013
Tickets are now on sale for OBU's Theatre for Young Audiences production of "Schoolhouse Rock Live!" The show will be presented one weekend only: Friday, March 8, at 7:30 p.m.; Saturday, March 9, at 2:30 p.m. and 7:30 p.m.; and Sunday, March 10, at 2:30 p.m. in Craig-Dorland Theatre in OBU's Shawnee Hall.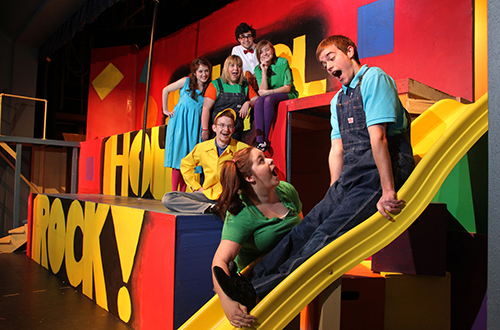 Children and adults alike will thoroughly enjoy the production, based on the Emmy Award-winning 1970s Saturday morning cartoon series that taught history, grammar, math, science and politics through clever, tuneful songs. In the play, Tom, a nerve-wracked school teacher who is stressed about his first day of teaching tries to relax by watching TV. Various characters representing facets of his personality emerge from the set and show him how to win his students over with imagination and music, through such beloved Schoolhouse Rock songs as "Just A Bill," "Lolly, Lolly, Lolly" and "Conjunction Junction."
The production is directed by Dr. Jeffery Wells, OBU associate professor of theatre. The OBU cast of "Schoolhouse Rock Live!" includes Tom, played by Trevor Rodman, a freshman from Tulsa, Okla.; George, played by Daniel Etherington, a freshman from Oklahoma City; Joe, played by Johnathan Flowers, a senior from Las Colinas, Texas; Dori, played by Bethany McWilliams, a sophomore from Shawnee; Shulie, played by Breana White, a junior from Broken Arrow, Okla.; Dina, played by Krysten Denney, a sophomore from Midland, Texas; Swing, played by Connor Gilbert, a high school senior from Shawnee; and Swing, played by Olivia Seamans, a freshman from Moore, Okla.
Tickets for the OBU production of "Schoolhouse Rock Live!" are $10 for adults, $5 for students and $2 for children under age 12. Located in Sarkeys Telecommunication Center, the OBU Box Office is open Monday-Friday from 9 a.m. to 4:30 p.m., or call (405) 585-4350.
The Theatre for Young Audiences production has been an annual event on the OBU campus since 1993. Each spring, about 2,300 Shawnee-area students attend matinee performances of the production. OBU Theatre seeks to present plays designed to entertain and inspire younger audiences in the art of live theatre. Plays are chosen for the values in their themes, including honesty and integrity.