Theatre for Young Audiences Presents 'Schoolhouse Rock Live!'
February 22, 2013
OBU's Theatre for Young Audiences will present "Schoolhouse Rock Live!" one weekend only: Friday, March 8, at 7:30 p.m.; Saturday, March 9, at 2:30 p.m. and 7:30 p.m.; and Sunday, March 10, at 2:30 p.m. Tickets go on sale Feb. 25 for the production which will premiere in Craig-Dorland Theatre in OBU's Shawnee Hall.
Children and adults alike will thoroughly enjoy the production, based on the Emmy Award-winning 1970s Saturday morning cartoon series that taught history, grammar, math, science and politics through clever, tuneful songs. "Schoolhouse Rock" not only is making a small-screen comeback, the live version is lighting up stages everywhere, from school multi-purpose rooms to university and regional theatres all around the country. Tom, a nerve-wracked school teacher who is stressed about his first day of teaching tries to relax by watching TV. Various characters representing facets of his personality emerge from the set and show him how to win his students over with imagination and music, through such beloved Schoolhouse Rock songs as "Just A Bill," "Lolly, Lolly, Lolly" and "Conjunction Junction."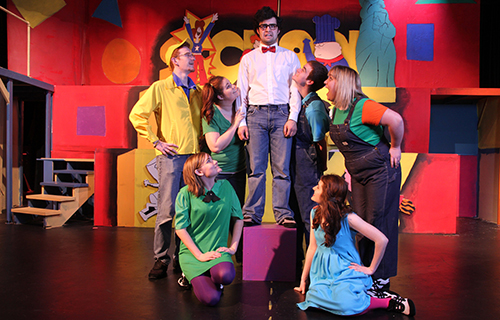 The OBU cast of "Schoolhouse Rock Live!" includes Tom, played by Trevor Rodman, a freshman theatre major from Tulsa, Okla.; George, played by Daniel Etherington, a freshman music education major from Oklahoma City; Joe, played by Johnathan Flowers, a senior music education major from Las Colinas, Texas; Dori, played by Bethany McWilliams, a sophomore psychology major from Shawnee, Okla.; Shulie, played by Breana, a junior voice major from Broken Arrow, Okla.; Dina, played by Krysten Denney, a sophomore biology major from Midland, Texas; Swing, played by Connor Gilbert, a high school senior who attends Shawnee High School; and Swing, played by Olivia Seamans, a freshman theatre from Moore, Okla.
The production is directed by Dr. Jeffery Wells, OBU associate professor of theatre, with costume design also by Wells. The production crew includes Shawnee resident Julie Purin as assistant director and choreographer; Peter Purin, assistant professor of music theory, as musical director; Greer Garland, a freshman digital media arts major from Carrollton, Texas, as stage manager; David Kenworthy, assistant professor of theatre and design technician, as scenic designer; and Timothy Frymire, a junior applied communications major from Lava Hot Springs, Idaho, as lighting engineer.
The original "Schoolhouse Rock" television series was the brainchild of an advertising executive who noticed his son could remember all the words to popular songs on the radio, but could not remember the multiplication tables. He reasoned that if important educational information was coupled with exciting animation and catchy music, children would be able to learn and remember it.
From this simple idea, "Schoolhouse Rock" was born and quickly adopted by ABC-TV which broadcasted the series on Saturday mornings from 1973 to 1985. Twenty years, 41 songs, and four Emmy Awards later, a nation which grew up with Multiplication Rock, America Rock, Science Rock and Grammar Rock can still sing the Preamble to the U.S. Constitution and know that "and," "but," and "or" all belong in Conjunction Junction.
On August 26, 1993, the musical hit "Schoolhouse Rock Live!" opened at Chicago's Cabaret Voltaire, an eclectic vegetarian restaurant. "Schoolhouse Rock Live!" played for eight months to sold-out houses in a record-breaking run in the Cabaret Voltaire.
Tickets for the OBU production of "Schoolhouse Rock Live!" are $10 for adults, $5 for students and $2 for children under age 12. Located in Sarkeys Telecommunication Center, the OBU Box Office is open Monday-Friday from 9 a.m. to 4:30 p.m., or call (405) 585-4350.
The Theatre for Young Audiences production has been an annual event on the OBU campus since 1993. Each spring, about 2,300 Shawnee-area students attend matinee performances of the production. OBU Theatre seeks to present plays designed to entertain and inspire younger audiences in the art of live theatre. Plays are chosen for the values in their themes, including honesty, integrity and preparing young people to recognize the good and evil of the world.