Symphonic Winds in Concert March 2
February 25, 2013
The OBU Symphonic Winds, under the direction of Dr. Christopher Neal, interim director of bands, will perform in concert on Saturday, March 2. The concert will be conducted in Potter Auditorium in Raley Chapel on the OBU campus, and begins at 6:30 p.m., which is earlier than most evening concerts.
The community is invited to attend the free performance.
The concert will feature classics for band, including Robert Russell Bennett's "Suite of Old American Dances," Henry Fillmore's "His Honor March," and chamber works featuring sections from within the ensemble.
"Concertgoers may have previously heard the music of Robert Russell Bennett, as he was responsible for setting many of the musical arrangements for popular musical theatre productions," Neal said. "Henry Fillmore was perhaps second to John Phillip Sousa in stature as a composer of marches in the golden era of American concert bands."
The OBU Symphonic Winds features students majoring in music, as well as students from other academic departments all across campus. Comprised of the most accomplished instrumental musicians on campus, the Symphonic Winds maintains a strong commitment to performing quality wind band works of high artistic merit.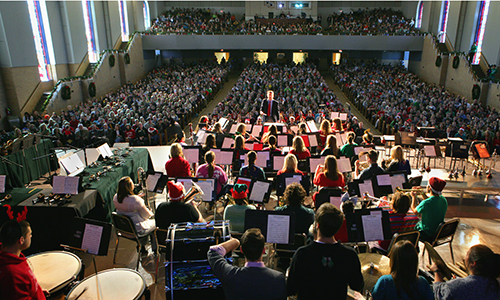 Neal is managing artistic director of West Winds Chamber Players in Oklahoma City. He previously served as director of bands and assistant professor of music at Washington State University in Pullman, where he coordinated a comprehensive NCAA Division I university band program at a Carnegie Research I institution.
He is a member of the World Association of Symphonic Bands and Ensembles, the College Band Directors National Association and the National Association for Music Education. He is a frequent guest conductor and clinician throughout the United States. He also is active as a marching band drill designer and visual consultant for high school bands throughout the region.