Students Attend Billy Graham 'Vision for Evangelism' Event
February 7, 2013
Nineteen OBU students -- along with one OBU graduate, two bus drivers and Odus Compton, director of student ministry -- embarked on a journey to North Carolina Jan. 31 to receive training and instruction from the Billy Graham Evangelistic Association.
The four-day trip, called "Vision for Evangelism for the Next Generation," was designed to nurture and encourage students' passion for evangelism among the nations beginning at home and reaching to the ends of the earth.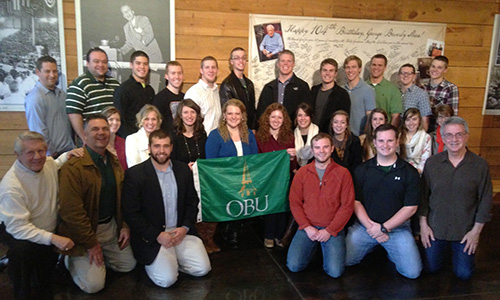 The journey allowed students to receive encouragement from Billy Graham Evangelistic Association (BGEA) members concerning the vision and calling to share the Gospel of Jesus Christ with others. Students also read about and discussed the biblical basis and historical impact of evangelism. The students earned one credit hour for their completion of necessary assignments.
The trip provided "a once-in-a-lifetime opportunity to get to learn firsthand from Billy Graham's team about evangelism," said Michael Fisher, a junior from Elk City, Okla. "Something positive was nailing down a 'Vision for Evangelism for the Next Generation' statement, which humbled me and made me think about why I want to do the things in my life that I do, and to make a difference, however that may be."
The group traveled to Charlotte, N.C., where they spent the day at the Billy Graham Library for a personal "visual for evangelism" experience. For the event, the BGEA invited students from OBU who have a passion to share the Gospel of Jesus Christ.
"I wanted to go on the trip to experience the passion that other students had for the specific ministries that God has called them to," said Josiah Custar, a senior from Ardmore, Okla. "I was looking forward to seeing how other ministries came about and how students minister to other people. My goal was to find ways to better reach the students and people that are a part of my ministry as well as those that God will give for me to minister to in the future."
The OBU contingency was driven to North Carolina by two volunteers, Ryan Young and Michael David, who serve on staff of First Baptist Church, Elk City. The students turned off their phones and other technology devices during their stay in Charlotte to devote their time and dedication to prayer and meditation.
"I was able to forget about all that was going on around me and listen," Custar said. "I got to focus on God and His specific calling for my life. It helped to set a goal for myself to walk worthy of the calling that Christ has led me to that will benefit my ministry now and for years to come."
The event was based, in part, on the Scripture found in Proverbs 29:18 which states, "Where there is no vision, the people perish." The BGEA stated the event conveyed a God-inspired plan to empower the students' minds and hearts to reach beyond their imagination to discover God's vision and path for their lives.
"I feel like the trip was so good for me," said Nikki Lankford, a junior from Middleton, Idaho. "It was good and convicting to hear about Billy Graham's life and see his love for Christ and passion to make (Jesus) known. At one point, we all shared our personal testimonies with each other; I think that was my favorite part. It reminded me of how truly beautiful the Gospel is and how much God has saved me from! I feel more challenged and encouraged now to tell people about the hope and redemption that come from belonging to God."
In a letter of invitation for the event, the BGEA wrote: "Our prayer is that they will depart knowing that God has set them apart, that their life and witness can help change America and the world through their passion, love and compassion for others."
"Our experience at the BGEA was very profitable for the students and for me," said Compton. "We were encouraged to consider our 'Vision for Evangelism for Our Generation.' This was a very timely event for each of us as we reflected on what God did through a 'dairy-farm boy' like Billy Graham, and considered what He might do in and through us. Each participant wrote out their own personal vision statement in the course of the weekend. It was truly a life-altering and life-encouraging event."
View the Billy Graham Evangelistic Association website for more information.