OBU Art, Design Students Gain Experience in New York
February 6, 2013
The month of January can be harsh and cold, leaving college students with little desire to get out of the house and be productive. However, a group of OBU students and faculty used the chilly month to gain experience in the world of art while visiting New York City.
The trip was part of OBU's three-week January mini-semester, known as "J-Term." Nine students participated in the two trip-related courses: "Drawing Sculpture in NYC" was taught by Julie Blackstone, assistant professor of art, and "Portfolio Development" was taught by Corey Fuller, assistant professor of graphic design. The first week of the courses took place on OBU's campus in Shawnee, Okla., the second week took place in New York City, and the final week of class was held back at OBU.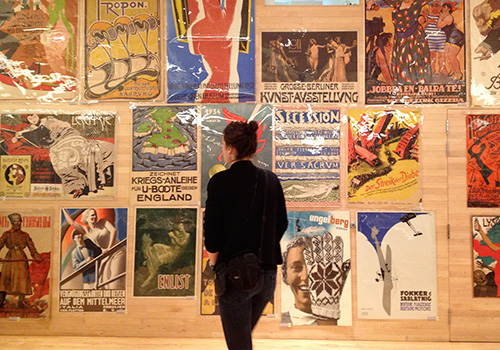 Molly Hennesy, a senior graphic design major from Argyle, Texas, was one of the students in the "Portfolio Development" course. As a graphic design major, Hennesy said she hopes to one day own a business in which she can utilize her design knowledge. Part of Fuller's course included visiting with practicing designers to give students a sense of what it means to be a creative professional. Hennesy said the New York trip was an excellent way for students to see graphic design skills being used in the real world.
Students met with professional graphic artists in New York City who provided insight into their careers. Charlotte Strick, creative director of "The Paris Review," shared part of her portfolio with the students and explained the processes of working for the magazine.
"Students were impressed by the collaborative nature of Strick's work as a liaison between editors and artists," Fuller said.
Todd Rhoda of CorchiaWolinerRhoda, an award-winning Web, logo and graphic design firm, connected well with the students, Fuller said. From Rhoda's experience of frequently hiring young talent, he provided great insight into what employers are looking for in an applicant and a portfolio.
Brannon McAlister is a designer and co-founder of NoiseTrade, an online music distributor that helps connect fans and musical artists. He also is part of a church plant in Brooklyn. The students found his blending of vocation and faith to be intriguing, Fuller said. McAlister offered simple yet significant advice to the students as artists: seek creativity daily.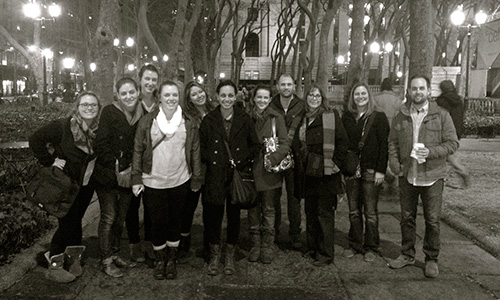 "Most of us have been brought up to do chores first, then fun things," recounted Hennesy. "Brannon's philosophy was that chores are necessary and will always get done. But if we start with exciting creative goals, rather than just meeting deadlines and requirements, everything will get done, not only the required things."
"The trip really made me excited to get back to drawing more constantly," Hennesy said. "The designers and artists gave us practical information and help, as well as inspiring us with beautiful typography, photos and design."
In addition to meeting graphic design professionals, students visited some of New York City's world-renowned art museums such as the Museum of Modern Art, the Museum of Natural History and the Metropolitan Museum of Art.
"In the 'Met', it was easy to see how much planning, time and effort went into these beautiful works of art," Hennesy said. "Some works, like Monet's 'Water Lilies,' were just breathtaking."
Students also visited Mast Brothers Chocolate, a famous Brooklyn chocolate shop. Many of the students on the trip had worked on a design project for Mast Brothers, and while in New York, they finally were able to see the recipient of their work firsthand.
At Philip Williams Posters, a famous poster store in Tribeca, the students viewed an auction preview. A large portion of the auction included the Hans Sachs Poster collection, an immense collection of Dr. Hans Sachs, which was seized by Nazis during WWII. Eventually returned to Sachs' son, Peter, the collection was being sold in New York during the students' visit. The collection consists of art deco and art nouveau styled posters, some of which are the only remaining prints.
"The posters were lovely to see," said Hennesy. "Some of them we remembered from textbooks in class, so it was great to finally see it in person."
The NYC tour included a trip to the Brooklyn Art Library, which houses "The Sketchbook Project." People purchase sketchbooks from the organization, fill them up, and mail them back to the library where they are stored for viewing, Fuller said. The sketchbooks also have gone out on tour from time to time.
"It's a fascinating project and a testament to humanity and the desire to create," he said.
Many students learn about art and design concepts in textbooks, but few are privileged enough to actually see learned ideas lived out in the real world. Opportunities such as this, in which classroom education is manifested in real world experiences, reaffirm students' learning and inspire continued educational efforts. Through the New York trip, OBU art and design students experienced their field of study in a completely new way.
"The trip tends to be very eye-opening for the students," Fuller said. "We spent the day after our return reflecting on all we saw and felt while in the city. I think the students found themselves encouraged, but slightly overwhelmed at times. The trip fosters new ideas and new ways of seeing and understanding the world."