Music Groups to Lead Worship March 3
February 18, 2013
Two OBU ensembles will help lead worship in Oklahoma Baptist churches on Sunday, March 3.
David's Creed, OBU's praise ensemble, will lead the morning worship service for First Baptist Church in Pawhuska, Okla., at 10:45 a.m.
The University Chorale, one OBU's premier vocal ensembles, will sing during the 10:50 a.m. service of Chisholm Heights Baptist Church in Mustang, Okla. The Chorale also will perform at First Baptist Church in Enid, Okla., during the 6:30 p.m. service.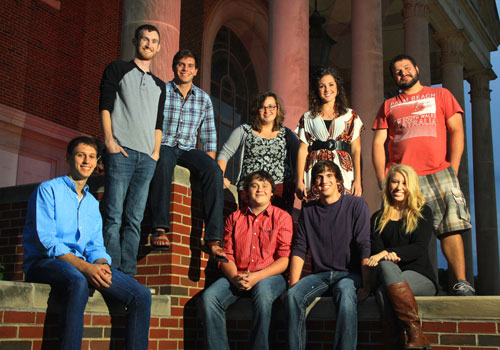 David's Creed takes a contemporary approach to leading worship. The band mixes contemporary music with traditional hymns. The repertoire allows the group to minister in churches with different styles of musical preference.
For 2012-13, David's Creed includes OBU students Sammy Andrews, Karlie Clifford, Tabitha Gordon, Jason McPhail, Josh Michael, Taylor Miller, Nick Simmons, Sarah Stephens and Ethan Workman.
The band is directed by Dr. Casey Gerber, assistant professor of music education and coordinator of vocal music education at OBU. Gerber teaches methods courses, supervises student teachers and conducts the Young Singers of Central Oklahoma in the OBU Preparatory Program.
Since the University Chorale's founding in 1963, the group has been comprised of some of the finest singers on OBU's campus, selected by audition. The choir's primary purpose is to "present advanced choral literature to the OBU campus and community."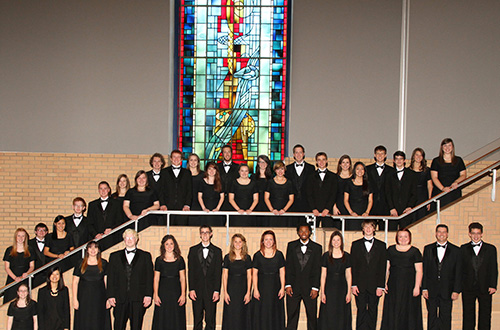 University Chorale is in demand for performances across the state and maintains an active performing schedule on and off campus. In recent years, the Chorale has made appearances at the Church Music Workshop, the Oklahoma Music Educators Association In-service Workshop, Southwestern Baptist Theological Seminary and the Southwestern Division Convention of the American Choral Directors Association.
The Chorale is under the direction of Dr. Brent Ballweg, Burton H. Patterson professor of music and director of choral activities at OBU. In addition to his work at OBU, he is an active guest conductor, clinician and adjudicator for various festivals, music contests and workshops across the country.
First Baptist Church Pawhuska is located at 302 E. 6th Street, Pawhuska, OK 74056. Visit FBC Pawhuska's website for more information, or call (918) 287-3703.
Chisholm Heights Baptist Church is located at 2243 W. Hwy. 152, Mustang, OK 73064. For more information, call (405) 376-4531.
First Baptist Church Enid is located at 401 W. Maine, Enid, OK 73701. For more information, call (580) 234-1133 or visit FBC Enid's website.
To learn more about OBU's music ensembles, contact the Division of Music at (405) 585-4301.