McQuades to Present Digby Bell Memorial Recital
February 22, 2013
OBU music faculty will present the ninth-annual Digby Bell Memorial Recital on Thursday, March 7, at 7:30 p.m. in Raley Chapel's Yarborough Auditorium. The community is invited to attend the performance.
The recital will feature Dr. Jennifer McQuade, coloratura soprano and assistant professor of music, and Dr. Mark McQuade, baritone, assistant professor of music and director of opera. Accompaniment will be provided by Dr. Mary Chung, assistant professor of piano, and Dr. Michael Dean, associate professor of music.
The program will include selections by Handel and Fauré, performed by Mark McQuade, and selections by Grieg, Yeston and Bernstein, performed by Jennifer McQuade. Together, the vocalists will present "Pronta io son" from "Don Pasquale" by Donizetti.
Dr. Digby Bell is the late husband of Dr. Carol Ann Bell, retired professor of piano at OBU. Trained in music as a child, Digby Bell discovered his love for piano performance around age 9. His passion for the piano led him to study at schools such as the Julliard School in New York. Bell received both his bachelor's and master's degrees at the University of Michigan. Soon after graduating from Michigan, he began teaching at the University of Oklahoma. While there, he earned his doctorate from the University of North Texas.
Bell taught and performed at OU for more than 40 years during his time in Oklahoma. For 25 of those years, he served as the chairman of the OU keyboard department. He was named professor emeritus upon his retirement in 1990. Bell performed many times with the Oklahoma City Symphony and, as a result, had several of his performances broadcast worldwide through the Armed Forces Radio and the Canadian Broadcast Company.
Digby and Carol Ann Bell were well known in Oklahoma as a duo pianist team. Digby Bell died on March 5, 2004. Carol Ann Bell retired from OBU in 2010 after 20 years of service.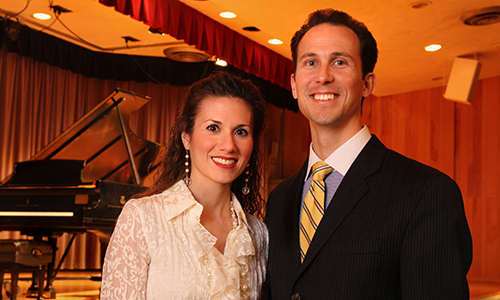 A Canadian lyric coloratura soprano, Jennifer McQuade serves as assistant professor of music at OBU. She has credits in opera, oratorio and musical theatre and maintains an active performance schedule in the United States and Canada. She earned a bachelor's degree at Mount Allison University; an artist diploma in voice performance at the University of Western Ontario; a master's degree in solo vocal performance at McGill University; and a doctorate at the University of Mississippi.
Jennifer McQuade has credits in opera, oratorio and musical theatre, including the title role in "The Ballad of Baby Doe," Laetitia in "The Old Maid and the Thief," Nella in "Gianni Schicchi," Emma in "Jekyll and Hyde," Baker's Wife and Cinderella in "Into the Woods," and Lilly in "The Secret Garden." Recently, she performed at the Enid Symphony Center with her cello/voice/piano trio.
A member of the National Association of Teachers of Singing (NATS) and College Music Society since 2006, she has presented research and performed for both societies. Most recently, she presented research at the 52nd NATS national conference in Orlando, Fla. She will travel to Brisbane, Australia, in summer 2013 to present her research at the International Congress of Voice Teachers.
Mark McQuade earned a bachelor's degree in vocal performance from the Oberlin Conservatory of Music where he studied with world-renowned vocal pedagogue Richard Miller. He earned a master's degree in vocal performance from the University of Oklahoma and doctorate in vocal pedagogy and performance from the University of Mississippi.
As a performer, Mark McQuade has appeared in opera, musical theatre, concerts and recitals. He has sung leading roles including Horace Tabor in "The Ballad of Baby Doe," Guglielmo in "Cosi fan tutte," Belcore in "L'elisir d'amore" and many others, in addition to his professional credits in numerous productions throughout the United States. As a stage director and musical director, he has developed a unique style and passion for a variety of genres, having directed opera and operetta along with classic and modern Broadway musicals. Most recently he appeared as Bob Cratchit in "Scrooge, The Musical" at Shawnee Little Theatre. In April, he will direct Kurt Weill's "Street Scene" with the OBU Opera Theatre.
He serves as the Oklahoma state governor for NATS, a post he has held since 2008. He is also the governor-elect for the TEXOMA Region of NATS. In 2010, he was the recipient of the prestigious NATS Emerging Leader Award. He continues an active performance career along with his teaching, directing and research.
Chung joined the OBU faculty as assistant professor of piano in 2011. She teaches piano, keyboard and chamber music courses. Additionally, she serves as accompanist for the University Chorale and collaborates with faculty and students for their recitals.
Dean joined the OBU faculty in 2006, and he received OBU's Promising Teacher Award in 2011. He performs with the Manno-Dean Piano Duo, including a 2012 concert at The Liszt Academy of Music in Budapest, Hungary. He also maintains an active schedule as workshop clinician, adjudicator, solo performer, collaborative artist and faculty member at summer music camps throughout the United States and Canada.