Glee Clubs to Sing in Worship March 10
February 22, 2013
Two OBU vocal ensembles -- the all-male Bison Glee Club and the all-female Bisonette Glee Club -- are scheduled to perform on Sunday, March 10, in Oklahoma churches. The Bison Glee Club will sing at First Baptist Church, Nicoma Park, during the 10:45 a.m. service. The Bisonettes will sing at Calvary Baptist Church, Duncan, at 6 p.m. The public is invited to attend the services.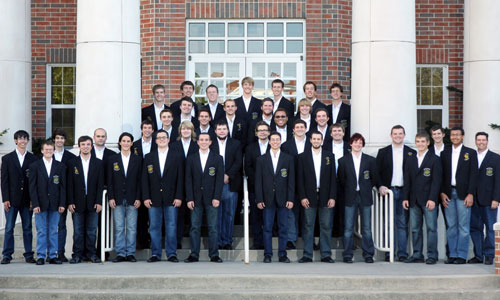 The Bison Glee Club is an auditioned group of the finest male musicians on the OBU campus. The group long has been considered one of the premier men's choruses in the Southwest and has toured extensively throughout the United Stated as well as in Canada, Europe and the Far East. They have been featured as an honor choir for the Oklahoma Music Educators Convention and the Southern Baptist Church Music Conference.
The Bison Glee Club performs under the direction of Dr. Brent Ballweg, the Burton H. Patterson professor of music and director of choral activities at OBU. Ballweg teaches courses in conducting, choral procedures and choral literature. Previously, he held college and university conducting positions in Oklahoma, Texas, Arkansas, Arizona and Missouri, and he has served as the artistic director and conductor of the Plano (TX) Civic Chorus, assistant director of the Kansas City Symphony Chorus, and founder and director of the Northeast Arkansas Chorale.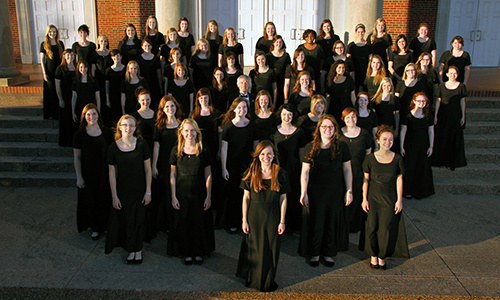 The Bisonettes, OBU's Women's Glee Club, was founded in 1954 by Warren M. Angell, former dean of the College of Fine Arts. Membership in the group is by annual audition; this year's membership includes students from Oklahoma, Texas, New Mexico, Arkansas, Arizona, Kansas, Colorado, Minnesota, Missouri, Iowa and Illinois. While music majors comprise a majority of the singers, the group is represented by a wide group of non-music majors, including nursing, graphic design, biblical languages, psychology, biology and English.
The Bisonettes are under the direction of Dr. James Vernon, professor of music at OBU. He has composed works for instrumental, choral and vocal idioms, as well as music for stage play productions. His compositions have been performed throughout the United States and parts of Europe. He is a member of the Society of Composers and the College Music Society. He also serves as an accreditation visitor for the National Association of Schools of Music.
First Baptist Church, Nicoma Park, is located at 1931 Nichols Drive, Nicoma Park, OK 73066. For more information, call (405) 769-5623 or visit FBC Nicoma Park's website.
Calvary Baptist Church is located at 1115 W Elm Ave, Duncan, OK 73533. For more information, call (580) 255-3488 or visit Calvary Baptist Church's website.