Former Dean Norman Searcy Dies at 92
February 20, 2013
Longtime OBU professor and administrator Norman Searcy of Shawnee, Okla., died Feb. 17, 2013. He was 92.
Searcy was born in Kansas City, Mo., to Robert H. and Mildred Amy McLaughlin Searcy. He graduated from Southwest Baptist College in Bolivar, Mo., with an associate's degree in 1941. He earned a bachelor's degree in chemistry, with a minor in physics, from OBU in 1945. He earned his master's degree in education from George Peabody College (now part of Vanderbilt University) in Nashville, Tenn. He completed additional graduate study at George Peabody and at the University of Oklahoma in Norman.
He served in the U.S. Army Air Corps during World War II. He completed 50 recorded missions in the China-Burma-India Theatre, sometimes through the high Himalayas, as a fighter pilot in the Flying Tigers. He was honorably discharged at the end of the war, earning The Distinguished Flying Cross (the nation's highest military aviation award), two Bronze Stars, a Purple Heart, and many other medals and citations.
Searcy was a teacher and administrator in the Shawnee Public School System before joining the OBU faculty as assistant professor of education in 1955. He achieved tenure in 1956; was named associate professor in 1966; and was named professor in 1980. In 1984, he assumed the role of dean of the College of Arts and Sciences. Following his retirement, he was named professor emeritus of education in 1989.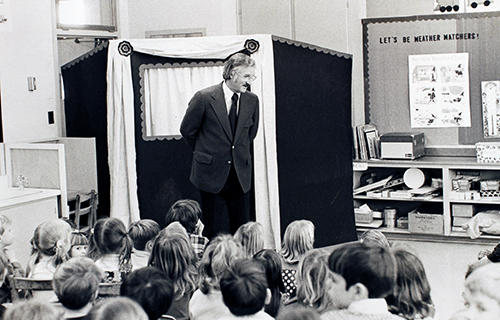 At OBU, Searcy served as chair of the Faculty Council, the Ad Hoc Committee on Curriculum Revision, the Ad Hoc Committee on Junior College Articulation, the Task Force on Faculty Evaluation and Development and the Professional Status and Standards Committee. In addition to other roles, he served as chair of the Department of Education, director of Teacher Education and audio/visual coordinator. He was sponsor of Kappa Delta Pi, an international honor society in education, for 30 years, and he served on the faculty of the European Study Tour of 1975.
He married Claire Lee Ward, a 1948 OBU graduate, on Dec. 8, 1943, and they had three children: Mike, Sarah and Timothy. They were married for 40 years until her death in 1984. On Aug. 2, 1986, Searcy married Hazel Henry, combining their families.
Searcy was an active member and deacon at First Baptist Church in Shawnee where he sang in the Sanctuary Choir and participated in many committees.
He is survived by his wife Hazel; three children: Michael Searcy and wife, Jeny, of Oklahoma City, Sarah Winchell and husband, Gregory, of O'Fallon, Mo., and Timothy Searcy and wife, Kelly, of Norman, Okla.; three step-children: Wayne Henry and wife, Helen, of Tulsa, Okla., Robert Henry and wife, Jan, of Oklahoma City, and Lisa McGehee and husband, Martin, of Springfield, Mo; 14 grandchildren; and eight great-grandchildren.
Services will be held Thursday, Feb. 21, at 2 p.m. at First Baptist Church in Shawnee.