Contemplating JFK: OBU Composer Pays Homage to Kennedy's Legacy
February 8, 2013
The OBU Division of Music historically presents The Oratorio Project featuring choral and orchestral works performed by the OBU combined choirs and orchestra. The goal of the Oratorio Project is to acquaint students with significant works from the Western canon while also contributing to the musical life of Shawnee and central Oklahoma.
This year's concert, titled "Visions of Liberty," will feature a new work by Dr. James Vernon, professor of music and coordinator of composition, on April 30 at 7:30 p.m. in Raley Chapel's Potter Auditorium. The concert also will include "Let Thy Hand Be Strengthened" (Coronation Anthem for King George II, 1727) by George Frederic Handel and "Testament of Freedom" (with texts by Thomas Jefferson) by Randall Thompson. The community is invited to attend.
By Kristen Stauffer Todd
OBU professor of music and humanities and chair, OBU Division of Music
For current OBU, the events of Sept. 11, 2001, serve as a touchstone. Although most of them were between the young ages of seven and eleven at the time, they remember exactly where they were and what they were doing when the planes hit the World Trade Center in New York City. It is a defining moment in their childhood.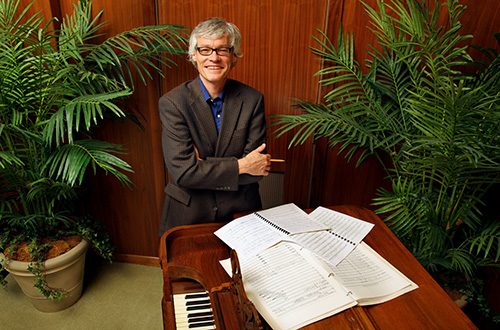 Many faculty and staff members at OBU have a similar touchstone. On Nov. 22, 1963, President John F. Kennedy was assassinated at Dealey Plaza in Dallas, Texas, in a motorcade on his way to a luncheon at the Dallas Trade Mart. For those faculty and staff members born in the 1950s and early 1960s, they remember exactly where they were when they received word of Kennedy's death. As predicted by journalist Joseph Dineen in the Nov. 24, 1963, Boston Globe article "A Shock Like Pearl Harbor," for them it is such a defining moment.
Composer James Vernon, professor of music and coordinator of composition studies at OBU, recalls parts of that event. At 3 years old and, therefore, not at an age where he can remember the events clearly, Vernon only remembers snapshots of it -- especially watching Kennedy's funeral on television with his parents and brothers.
"I was a day shy of my fourth birthday on the day he died," Vernon said. "I only remember bits and pieces of the weekend in which the nation grieved publically through the medium of television -- it was continuous coverage until after the funeral. My parents and their friends sat and watched and grieved with everyone else. It was only in the intervening years that I realized how much this president meant to people."
The images of the rider-less horse, the caisson bearing the president's casket, and the Kennedy family watching the processional are all etched in his mind. He remembers adults in his life upset at the death of this man, but of course, at age 4 (almost), he was not equipped to process the impact that this death would potentially have on his country.
"In the years to follow -- the Vietnam War, the assassinations of his brother, Robert, and of Martin Luther King, Jr., Watergate -- the country lost its ability to hold the office of President with reverence," Vernon said. "But JFK continued to be remembered for the good things he accomplished and attempted to accomplish. And eventoday, as information continues to be compiled about his life and his all-too-humanness, we look fondly back to a time of great hope and how we together could accomplish great things."
This year, 2013, marks the 50th anniversary of the assassination of Kennedy. There will undoubtedly be tributes and remembrances nationwide all year. The city of Dallas is planning an extensive tribute, as is the Kennedy Center for the Arts in Washington, D.C.
The OBU Division of Music has, for many years, sought to perform great works from the choral and orchestral repertoire. "The Oratorio Project," as it has come to be known, has in recent years featured works by Mozart, Durufle, Puccini, Bernstein, Handel, and a commissioned work by former faculty member Dr. Michael Cox ("Symphonic Psalms," 2004). The goal of the Oratorio Project is both aesthetic and pedagogical - to simultaneously acquaint students with significant works from the Western canon while also contributing to the musical life of Shawnee and central Oklahoma. Frequently these projects involve bringing in a guest artist to serve as the conductor, mass choir rehearsals, orchestra players from the Oklahoma City Philharmonic, and a great gathering of the OBU Music community.
Vernon's memory of the assassination has special personal meaning, and he wanted to find a way to direct that memory into something significant and evocative.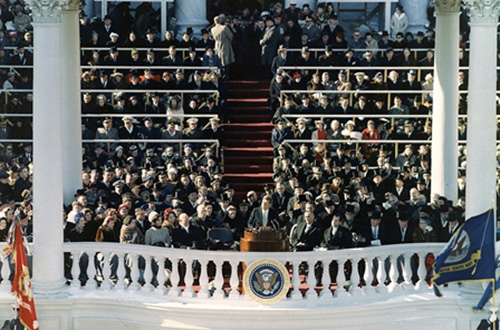 "For several years, I have looked forward to finding a way to express myself to remember -- even if only on a personal level -- 1963," Vernon said. "As we approached 2013, I found myself searching for the right method to accomplish this. Early in 2012 I decided to research some writings and speeches of Kennedy and compose a work for the Bisonette Glee Club. In the middle of my research, I kept coming back to the Inaugural Speech, and decided to concentrate on this work as a text for the composition."
While discussing the upcoming Oratorio Project for 2013 with Dr. Brent Ballweg, OBU director of choral activities, Vernon proposed that the work he was contemplating be written for mixed chorus and orchestra, and Ballweg agreed.
The resulting work is "The Glow From That Fire," for mixed chorus, alto soloist, narrator and orchestra. Rather than focus exclusively on JFK's assassination, Vernon chose the more challenging path of edification and enlightenment, and took as his impetus the January 1961 Inaugural Address Kennedy gave on the steps of the U.S. Capitol.
"Kennedy, the first president of the 20th century born in that century, brought an incredible amount of hope and energy to the office in January of 1961," Vernon said. "War hero, published author, outstanding orator, youthful, visionary -- the combination of Kennedy attributes after years of the American government being led through Depression, world wars, and post-war boom by aged and 'old school' politicians made JFK the young hope for America. His inaugural address on Jan. 20, 1961, is one of hope, courage, strength and American pride, and is considered one of the finest American speeches ever."
For his piece, Vernon juxtaposes the 1961 inaugural address with the more traditional and conservative Requiem mass (Missa pro defunctis), or Mass for the Dead. Although customarily celebrated in the context of a funeral, innumerable composers have chosen portions of this rite for concert works, some to venerate a significant contributor to culture, politics or the military, and some simply to explore the aesthetic viability of these weighty texts.
Vernon's take on the Requiem is innovative and imaginative. Because the work is designed as a concert work rather than liturgical practice, he made choices with some of the texts he used, and found those that pair best with the excerpts from the Inaugural Address. In this way he is able to freely explore deeper meanings of both the Latin and English texts, and parallel the two in an inventive coupling.
The nascent theme of Kennedy's fledgling presidency -- of service, relief and comfort -- is one of the themes of the speech that attracted Vernon to it initially. The idea of service and support not only resonates with Vernon, but with the entire OBU Division of Music. It is one of the three pillars of the Division of Music's mission statement -- academics, performance and service -- and in this way the students and faculty now working and growing as artists at OBU are uniquely poised to perform what will undoubtedly become a significant work in the repertoire.
"I believe we have always been a great choral place, but because of Brent's leadership, we are poised to do great things in the choral area," Vernon said regarding the performance. "I do not hesitate to put a piece of this magnitude in the hands of these students and my colleague to prepare, because I know they are not only capable, they will greatly exceed the expectations I have for this piece. Every composer wants the perfect performance -- and I am confident that with the current OBU choral program at my disposal, this work will be everything a composer could want."
"The Glow From That Fire" will have its world premiere in Potter Auditorium in Raley Chapel on the campus of Oklahoma Baptist University. The concert, titled "Visions of Liberty," will feature not only Vernon's work, but also "Let Thy Hand Be Strengthened" (Coronation Anthem for King George II, 1727) by Georg Frederic Handel and Testament of Freedom (with texts by Thomas Jefferson) by Randall Thompson. The concert will be Tuesday, April 30, at 7:30 p.m., and is free and open to the public.