Communication Arts Students to Present Research
February 28, 2013
Seven OBU communication arts students recently were selected to present their research papers at prestigious communications conferences, at which graduate and undergraduate communication scholars from across the nation discuss developments in theory and research in the communication discipline. All student papers went through a blind-review process for selection.
Three students have been accepted to present their research on March 1-2 during the New Voices, New Perspectives Student Conference at the University of North Texas. They include: Evan Austin Ogden, a junior from Round Rock, Texas, whose research is titled "Preset loyalty: Communication acts that engage radio listeners"; Neal A. Ellis, a senior from Midlothian, Texas, "The NBA Lockout: Attracting an Audience with the Well Made Play"; and Alexander M. Shirley, a junior from Edmond, Okla., "Thunderous Twitter trends."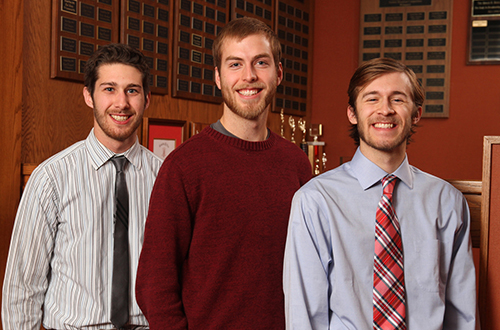 The papers by Ogden and Shirley were written to fulfill part of the requirements of the communication course CMAR 2503: Information Gathering and Research, taught by Dr. Vickie Shamp Ellis, associate professor of communication arts. Neal Ellis' paper was written to fulfill part of the requirements of APCM 4353: Political Communication,taught by Dr. Kaylene Barbe, professor of communication studies and chair of the Division of Communication Arts.
"This is the second year that OBU communication studies scholars have been accepted to the UNT Communication Research Conference," Dr. Ellis said. "This year, the conference will emphasize an interdisciplinary approach to communication research. The keynote speaker is Carole Blair, professor of rhetorical studies at the University of North Carolina, Chapel Hill. Blair's research focuses on the rhetorical and cultural significance of U.S. Commemorative places and art works."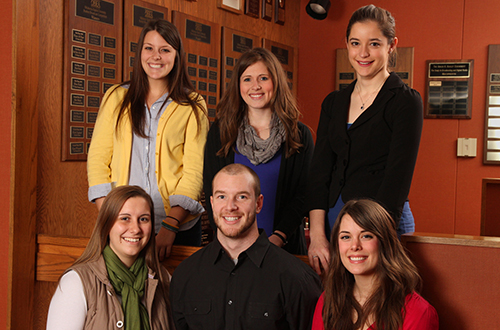 Six OBU students had their research papers accepted to 2013 Sooner Communication Conference and will present their work on the OU Campus March 9. They include: Amanda E. Lancaster, a senior from Ketchum, Okla., whose work is titled "Act of engagement: The communication of dating and marriage narratives at Oklahoma Baptist University"; Charity Anne Jernigan, a junior from Haskell, Okla., "We stand and lift up our hands: A comparative analysis of nonverbal behaviors in worship contexts"; and Jordan Taylor Bowles, a junior from Edmond, "Boo who? A look at sports fan behavior."
Also selected were Austin T. Manger, a junior from Oklahoma City, for "Branding: The organizational path to loyalty"; Lauren Rachel Smith, a senior from Greenwood, Ark., "Barack Obama: A thespian for change"; and Megan E. Hopkins, a senior from Bolivar, Mo., "Ideographical Empowerment: Compelling the Hispanic Market."
Manger has been awarded the Conference's Top Undergraduate Paper Award.
The papers by Hopkins, Lancaster, Jernigan, Bowles and Manger were written in conjunction with Dr. Ellis' communication research course. Smith's paper was written in conjunction with Dr. Barbe's political communication course.
"Over the past five consecutive years, OBU Communication Arts students have had their papers accepted to this prestigious conference," Dr. Ellis said. "This year's Sooner Communication Conference theme addresses the ongoing evolution in Communication, (E)Motion. The conference theme also emphasizes the scholarship of keynote speaker, Robin Nabi, communication professor and researcher from the University of California, Santa Barbara."