OBU Hosts 'Soles4Souls' Shoe Drive Through Friday
December 5, 2012
OBU is collecting donated shoes for Soles4Souls, a charitable organization which accepts shoes and monetary donations to provide footwear to people in need both in the community and around the globe.
Donations will be accepted for OBU's Soles4Souls campaign through Friday, Dec. 7, at 6 p.m. Members of the Shawnee-area community are invited to contribute to the collection at various campus drop-boxes located in the Geiger Center, the Recreation and Wellness Center and the Mabee Learning Center. Additionally, students can donate at Agee, Kerr, WMU and Taylor residence centers.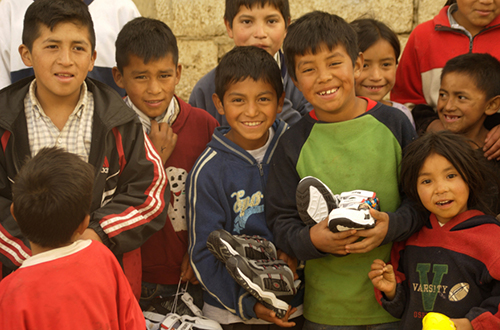 Joseph Krueger, an OBU freshman from Sapulpa, Okla., decided to start a shoe drive as a project for his Introduction to Speech Communication class taught by Dr. Kaylene Barbe.
"When I was told I was to form a group and complete a group project for my Speech class, I had this thought stuck in my mind: it would be better to concentrate on and perform a group project that would continue to help people in the long run, rather than focusing on a 'one-hit wonder'," said Krueger.
"I love to think of how much we could help the less fortunate and those who are in need," he said. "If the Christ-like Bison school spirit is behind it, it will make the project so much stronger and more effective in the long run."
The shoe drive not only fulfills the requirements of a course project, but also emphasizes OBU's mission to equip students to positively impact the world around them.
"This project has allowed Joseph and his group members to truly integrate what they are learning in the classroom with their passion and calling to help those less fortunate," said Brandon Skaggs, dean of students. "This group of students had a desire to help a wonderful organization provide shoes for those in need. Part of the OBU mission statement is to engage a diverse world, and through their project, this group will truly make a global impact by providing for those who are in need."
For more information on the Soles4Souls campaign, click here or call (866) 521-SHOE.