Webb Employs Hybrid Medical Techniques
November 8, 2012
The Profile in Excellence award is given by the OBU Alumni Association to a former student who has "demonstrated recognizable accomplishment in his or her profession, business, avocation, or life service in such a way as to bring pride and honor to the University." Each year, Profile In Excellence recipients are featured in OBU Magazine.
Most radiologists sit in a dark room reading X-rays, CT scans, MRIs and ultrasounds all day. Many interventional radiologists focus on image-guided minor procedures with general diagnostic imaging. Pain doctors administer epidural injections and other pain medicine.
Dr. Jim Webb, a 1995 OBU graduate, combines the work of those three medical specialists at his hybrid practice, Musculoskeletal Imaging of Tulsa. He brings expertise to read MRIs and other scans to find a diagnosis, and then he performs the procedures to help his patients, whether through interventional pain management or minimally invasive spine surgery.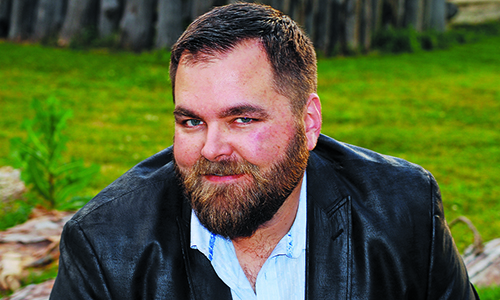 He also focuses on osteoporosis management. He was the first doctor in Oklahoma to offer minimally invasive lumbar decompression surgery for patients with spinal stenosis. He treats patients who have seen some of the brightest minds in medicine tell them "nothing can be done." For Webb, the answer can be found by going back to the basics.
"I take the 10 percent of pain patients that are difficult for other doctors, and that's 90 percent of my practice," Webb said. "I get to see patients who have dealt with pain for decades that we're able to help.
"And every time that happens with a patient, I think back on something Jim Hurley said about advances in science. If you think about all the things that we are discovering about science, medicine and the human body in health and disease, you will realize that 100 years ago we didn't even know what penicillin or DNA was, much less stem cells. The Creator, through his grace and magnanimity, helps those who would to discover the many secrets of the Universe."
Webb counts Dr. James E. Hurley, the highly esteemed professor of biology at OBU from 1962-98, as a giant in his life. Today, OBU's College of Science and Mathematics is named in Hurley's honor.
"Many new students were afraid of Dr. Hurley because, at first, his keen focus and seriousness could come off as stern and curt," Webb said. "The only reason to be afraid of him was if you desired mediocrity. He expected nothing less than the absolute best from his protégés, and he gave them nothing less than the best as a mentor."
Webb said another mentor who seemed divinely placed for him on Bison Hill was Dr. Doug Watson, professor emeritus of English.
"From my first experience as a freshman, (he) had an incredible gift for helping others see other perspectives objectively," Webb said. "He helped me expand my worldview by cutting through my own biases without condescension. As a result, to me he was - and is - a legend in constructive criticism and was able to help me find my natural talents in critical thinking, logic and writing style."
Tapping into his musical creativity was, at one time, a stress outlet for Webb. A pianist since age 7, he taught himself to play the guitar at age 14. Today, he takes his music more seriously, pursuing singing and songwriting while continuing his medical practice. He has completed several recording sessions in Nashville, Tenn. Much like his medical practice, his musical style has been called a "hybrid," combining influences of country and jazz.
But despite his advances in medicine and his budding musical endeavors, Webb said he is most proud of his family: his wife, Tiffany Murrey Webb, a 1996 OBU alum, whom he met on the steps of WMU Dormitory 20 years ago, and their three children, Lola, Zane and Ella.
Click here to view a list of others who have received the Profile in Excellence award.