Shawnee Honor Choir Concert Set for Dec. 2
November 27, 2012
Shawnee Honor Choir will present its Christmas concert on Sunday, Dec. 2, at 3 p.m. in Yarborough Auditorium of Raley Chapel on the OBU campus. The concert is free and open to the public.
Shawnee Honor Choir, an auditioned choir of 40 third through seventh graders representing 18 different schools in Shawnee and the surrounding area, is a part of the Young Singers of Central Oklahoma, the preparatory choirs of Oklahoma Baptist University. Shawnee Honor Choir is directed by Conchita Hansford, Music Preparatory director and OBU faculty member since 1990. Dephanie Lilite serves as accompanist.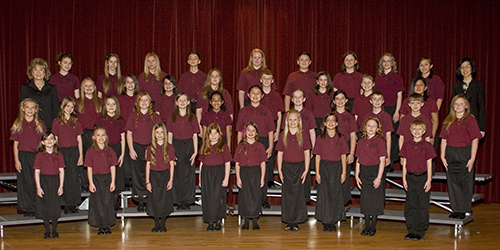 Shawnee Honor Choir performs in 12 schools annually, presents four formal public concerts each year and frequently performs at community events. The choir has performed six times at the Oklahoma Music Educators Association Convention in Tulsa. On Tuesday, Nov. 27, the choir performed at Sequoyah, Jefferson and McLoud Elementary. On Friday, Nov. 30, they will perform at Grove, North Rock Creek, Will Rogers and Sterling House. Shawnee Honor Choir also will perform at OBU's 75th annual Hanging of the Green, a program that includes all of the choral groups at OBU, as well as the Shawnee Community Orchestra.
Shawnee Honor Choir will open with "Carol of the Angels" by Jill Gallina and then perform "The Snow Carol" ("Still, Still, Still"), a German carol, arranged by Audrey Snyder. Other Christmas selections include "Angels' Carol" by John Rutter; "Night of Silence" by Daniel Kantor; and "Snow is Falling" composed by Ruth Elaine Schram. Additional selections include "Jamaican Noel," a Jamaican folk song, arranged by Linda Spevacek; "Jingle Bell Swing," arranged by David J. Elliott; and a fun round titled "MerryChristmas to You All."
Soloists for "Night of Silence" include Angelina Ropp, Emily Sconyers and Mikayla Fest.
Thomas Whitmore, claves, Ariel Hawkins, maracas, and Melanie Clanton, jingle bells, will join Shawnee Honor Choir on "Jamaican Noel." Clanton, Hawkins and Whitmore are OBU sophomore music majors who serve as student assistants for the choir.
Orff instrumentalists will perform "Festive Bells" by Bradley Bonner. These students include Abigail Lilite, Catherine Burgess and Olivia Todd, soprano glockenspiels; Ashley Smith, alto glockenspiel; Mikayla Fest, Kaylan Posey, soprano xylophones; Juliana Cannon, soprano metallophone; Noah Youmans, alto metallophone; Kate Barrett, Hannah Baughman, Alyssa Baughman, alto xylophones; Parker Terrell, bass xylophone; Noah Drew, bass metallophone, Angelina Ropp, bass bars.
Introductions to the choral works will be presented by Juliana Cannon, Jennifer Collins, Kobie Garoutte, Megan Hardwick, AJ Higgins, Andrew Terrell, Parker Terrell and Noah Youmans.
At the end of the program, there will be an audience sing-a-long of Christmas carols. Hand chime performers include Rose Anderson, Baylor Brannan, Catherine Burgess, Juliana Cannon, Julie Chance, Kobie Garoutte, Kali Giddens, Lily Hardwick, Megan Hardwick, Karleigh Landes, Breeanna Lee, Abigail Lilite, Mackenzie Morgan, Maggie Price, Corinna Ropp, Abby Smith, Andrew Terrell, Sydney Vanbebber, Kaylee Williams, Emily Yoakum, Jacob Yoakum, Lauren Yoakum and Noah Youmans.
Schools represented in Shawnee Honor Choir include Bethel Elementary and Middle School, Family of Faith, Grove, Holdenville Middle School, Home School, Jefferson Elementary, Liberty, McLoud Elementary and Middle School, New Lima Middle School, North Rock Creek, Prague Elementary and Middle School, Seminole Northwood, Sequoyah Elementary, Shawnee Middle School and Will Rogers.
Hansford said college students Whitmore, Hawkins and Clanton provide valuable assistance with sectional rehearsals on a regular basis. Honor choir mom is Kim Fest.
The choir is dedicated to the philosophy that through the learning and performance of excellent choral literature, the lives of the choir members, as well as the lives of their families and the community will be enriched both musically and artistically. The choir provides a special learning environment designed to provide a rich and rewarding musical experience for each child. The children study and perform a variety of music from simple unison songs to more challenging choral literature. Concepts about music (melody, rhythm, harmony, form and expression) and musical skills (singing, music reading, etc.) are taught systematically throughout the rehearsals. Singing, a powerfully personal means of musical expression is the major focus of musical experience in Shawnee Honor Choir. The children are taught the use of the vocal instrument through exercise, posture, breath and tone production. The goal is that the experience of artistic singing will form the foundation of a lifelong relationship with music for the singers and their families.
Hansford, assistant professor of music, has taught music education at all levels including Kindermusik for babies and their mothers and other Kindermusik classes for children through age 6. During her 31-year teaching career she has taught a variety of university courses including early childhood and elementary music methods, church music methods, class piano, voice, and private piano. Active as a guest conductor and workshop leader, she has presented numerous workshops in Arkansas, Texas, New Mexico, Oklahoma and Kansas. She also directs the Young Musician's Choir at First Baptist Church, Shawnee. Hansford earned degrees from Mississippi University for Women and Wayland Baptist University. She is Orff certified and has done additional graduate study in music at Texas Tech University, the University of Oklahoma and the University of Colorado at Greeley. She is a licensed Kindermusik educator.
Dephanie Lilite has concertized extensively in London, Haiti and the United States as a versatile pianist whose brilliance shines as a soloist, accompanist and chamber musician. A southern California native, she graduated summa cum laude with a bachelor's degree in piano performance from the Conservatory of Music at Biola University and a master's degree in piano performance and pedagogy from Pennsylvania State University. This is her fifth year to serve as accompanist of Shawnee Honor Choir.