Poudrier to Present Veteran's Day Poetry Reading
November 2, 2012
OBU's English Department Reading Series will present a Veteran's Day poetry reading with veteran Jason Poudrier on Monday, Nov. 12, at 7 p.m. in the Geiger Center room 212.
An Iraqi Freedom veteran and Purple Heart recipient, Poudrier has authored two collections of poetry: "Red Fields," published by Mongrel Empire Press in 2012, and a chapbook, "In the Rubble at Our Feet," published by Rose Rock Press in 2011.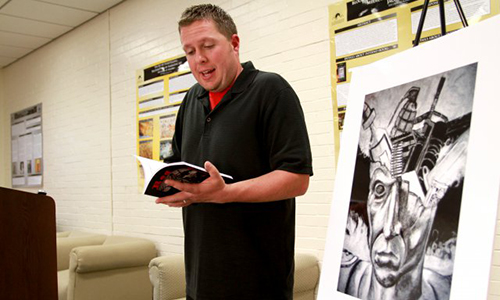 Poudrier is a veteran workshop leader, and in 2012 was invited to host a workshop at Eastern Kentucky University's Military Experience and Arts Symposium, and he was selected to be a part of the Kurt Vonnegut Memorial Library's "Healing through the Humanities" event in Indianapolis, Ind.
His work has been included in several anthologies, including "Ain't Nobody Can Sing Like Me," and "Proud to Be: Writing by American Warriors," Eastern Missouri UP. His work has appeared in numerous library journals such as the "CT Review," "New Mexico Poetry Review" and "Sugar Mule."
Currently, he resides on a 20-acre ranch in Rush Springs, Okla., with his wife, Chelsey. He teaches Pre-AP English at Lawton High School.