OBU Dedicates Milburn Success Center
November 9, 2012
OBU dedicated the Paul and Ann Milburn Student Success Center on Friday, Nov. 9, with a ceremony and ribbon-cutting during the university's 2012 Homecoming celebration.
Shawnee residents Paul and Ann Milburn designated a gift to OBU's Student Success Center, inspired partly by Ann's career as an educator. The endowed gift provides resources to employ professional staff, to launch a full-scale advisement program and to be a community partner for student success and retention both for the university and Shawnee High School.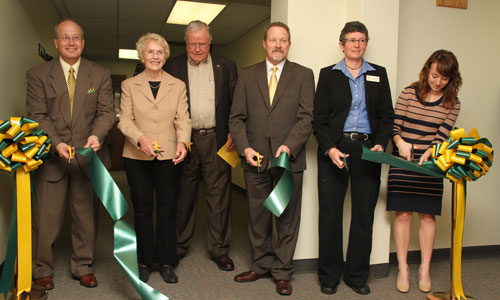 Located in the Mabee Learning Center on the Shawnee campus, the Milburn Student Success Center is available to assist students of all majors, classifications and academic needs with comprehension of course material as well as in the development of study, research, analytical, reading, writing and critical thinking skills. The center offers help with writing assignments and tutoring in core subjects as well as mathematics, chemistry, physics, accounting and economics. The center also provides aid in research, organizing study groups and academic feedback.
The Student Success Center opened its doors on Sept. 8, 2008, and conducted 1,055 sessions in its first two months. During the first two months of the fall 2012 semester, the center conducted 3,306 sessions. The center has employed 102 students and graduates who have served their fellow students.
"The Student Success Center is quickly becoming a nationally recognized center for retention and student success," said OBU President David Whitlock. "If you know anything about the Milburns, you know they are absolutely committed to student success and they are absolutely committed to student retention. We are privileged to work alongside Paul and Ann Milburn as they invest in their local community."
Monica Mullins, director of student success at OBU, said the Milburns' generous gift inspires the center staff to new levels of service.
"We plan to continue and expand our compassionate service and rigorous challenge to all students," Mullins said. "It is our goal to be a model of best practices that others might learn how to serve their unique populations. We will continue to develop leaders and scholars in all disciplines that they might go into all the world continuing to impact lives for Christ."