Hurt Memorial Track Complex Dedicated
November 9, 2012
OBU hosted a dedication ceremony and ribbon cutting for the Eddie Hurt Jr. Memorial Track Complex Dedication on Friday, Nov. 9, at 3 p.m. The track complex is located on the northwest corner of the Shawnee campus, on the corner of Airport Drive and MacArthur Street.
The complex was constructed with significant gifts from 1941 OBU graduate Lawrence Harris. The oil and gas businessman, who resides in Roswell, N.M., endorsed naming of the complex in memory of his OBU coach. Harris played football for OBU and was coached by Hurt in 1937 and 1938.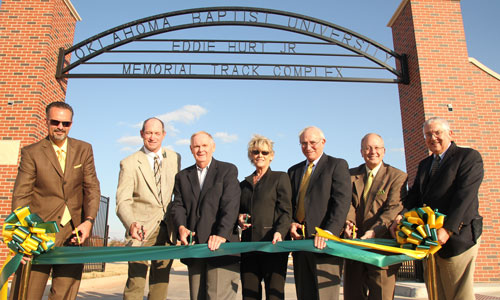 Hurt graduated from OBU in 1929. He served at OBU from 1935-55 as coach and director of physical education. He coached track from 1936-55. He also coached football from 1935-38, and basketball from 1938-44 and 1945-47. He served as OBU's athletic director throughout his tenure and was chair of the physical education department. His track teams won 13 consecutive Oklahoma Collegiate Athletic Conference championships. He left Bison Hill in 1954 to work with the Brotherhood Commission of the Southern Baptist Convention. He returned to OBU in the 1970s to work as a part-time development officer. He died in 1996.
Will Smallwood, vice president for university advancement, offered a welcome during the dedication ceremony and introduced several speakers: Bob Keck, a 1952 OBU graduate and benefactor of the Bob Keck Indoor Training Facility; Dr. John W. Parrish, executive vice president emeritus; Randy Smith, senior vice president for business and administrative services; Eddie Hurt III, a member of the Class of 1963; and Dr. David Whitlock, OBU president.
Ford Mastin, head track coach and a 1977 OBU graduate, wrote and read the following poem for the ceremony:
It took an act of courage in 1925For a boy to leave his country town and expect that he'd survive.

Eddie came from Carmen to the city of ShawneeTo knock the farm dust off his shoes and be what he dreamed to be.

The college had so many things and he seemed to try them allAnd he found the crowd would stand and cheer when they handed him the ball.

With the football carried in his arm he made opponents cryAnd when Track season came around the guy could almost fly.

Any relay he was on was sure to take the goldHis State Long Jump Record made it to 25 years old.

I used to prod my Granddad for tales of his teammateHe would tell how Hurt was fast, but LEADING made him great.

God gave the gift to Eddie Hurt to lead boys into menThe Bison teams were always good but did more than just win.

They learned respect and how to give great effort fueled with passionA striving for excellence that will never become old-fashioned.

He took 'em North and took 'em South, rode trains from East to WestAnd showed the world what happens when men strive to do their best.

When powers that be decided to give a facility someone's nameThe memory of that person and his character should remain.

As guests will read the Arches above and wonder who he wasMay our effort, passion, and witness for God carry on his cause.

To the Hurts we're indebted for what took 80 years to buildWe pledge to honor your memory by what we do on this Track and Field.