Flag Football Team Takes Second at Nationals
November 20, 2015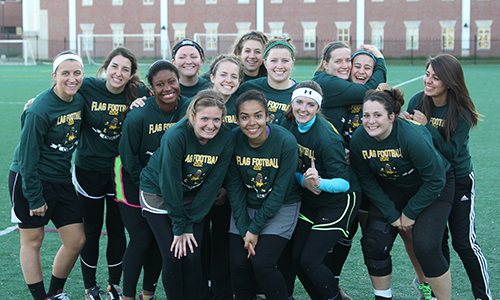 Three OBU flag football teams made a trip to the University of Nebraska in Lincoln, and competed in a regional tournament Saturday, Nov. 3. The women's team walked away from the tournament as runners-up in their bracket.
The women's team fell just short of being crowned champions to Angelo State University. The team included Paige Whitson, Lexi Masters, Joy Quary, Allison Scott, Chelsea Abinah, Natalie Gates, Caitlyn Carpenter, Stefanie Madison, Ara McDaniel, Dayla Rowland, Elizabeth Sidler, Bethany Ray, Lori Taylor and Jeanette Santibane.
OBU has a strong history in the regional tournament. Last year, the men's team made it to the championship as well, where they took second place to the Air Force Academy.
This year, the annual tournament attracted 28 teams from 11 different universities.
As well as garnering second place in the tournament, the OBU women's flag football team boasted three players - Abinah, Carpenter and Madison - who were named to the All-Regional Team.
The co-recreational team, comprised of Colin Metcalf, Grant Garwood, Caleb Potter, Taylir Ross, Maggi Rader, Rachel Piston, Kayla Cernosek, Courtney Buchanan, Jesse Grandstaff, Jade Troxell, Parker Goforth and Matt McAlister, fell short of the finals bracket after they went 1-1 in the tournament.
"The competition in Nebraska was a challenge, but it was fun getting to play with my teammates," said Buchanan, a senior from Shawnee, Okla. "The co-ed team I was on didn't make it to the tournament bracket due to point differential, which was a tough loss. Despite our loss, it was a great experience and I am happy I got to represent OBU in the regional tournament."
Likewise, the men's team also was eliminated from the tournament after winning one game but lost the second. The men's roster included Blaine Kilinc, Dillon Gardner, Justin Mathis, Caleb Sanders, Henry Caster, Ross Harlan, Aaron Partridge, Justin Frye, Jon Scott, David Gardner and Jordan Robinson.
"The trip, despite the quick exit of the two teams, was extremely rewarding and provides a great time for our students to bond and make memories while representing OBU in an outstanding way," said Gardner, OBU's program coordinator for intramurals and recreation. "Watching our players break out in 'Ka-Rip' is always my favorite part; win or lose, they show great sportsmanship."