Bison Relay Squad Establishes Top World Mark
November 26, 2012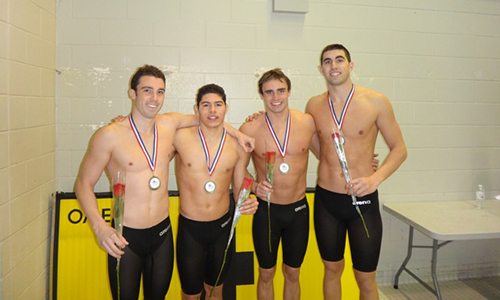 The OBU men's 50 freestyle relay team of Daniel Ramirez, Garland Sullivan, Nick Schuttinger and A.J. Barbar is on top of the world.
The team swam to first place and the fastest time of the world in the Canada Cup Saturday in Toronto to displace Tuks Aquatics of Russia as the top world time for this swim season with a 1:29.77. OBU has the top time by five one-hundredths of a second.
In doing so, the Bison beat UBCD, which includes three Canadian Olympians, by 0.32 seconds.
"We shocked everyone in the place," said OBU Coach Sam Freas. "We were tired and they had three Olympians on the relay and we just went out and beat them. This team from a little school in Oklahoma shocked me and stunned everyone. OBU should be proud of this. It could changetomorrow, but for right now OBU is the fastest team in the world this year."
The feat slightly overshadowed a strong showing by the Lady Bison in the same event as Emma Forbes-Milne, Laura Galarza, Jessica Bragason and Ines Remersaro placed second in the meet with the seventh-fastest time in the world at 1:45.86.
"We had a lot of great swims," said Freas. "The schedule was brutal for us, but they held up. We're really improving."
Ramirez also placed third Saturday in the 50 backstroke at 24.94 and the 100 butterfly at 53.64. Also in the 100 fly, Sullivan was seventh at 55.27 and Max Abreu was ninth at 54.89. Daniel Robbins was 10th in the 50 backstroke at 26.42.
Vito de Franca was third in the 100 breaststroke at 1:02.15 and Schuttinger was sixth in the 50 free at 22.99.
Galarza placed seventh in the 50 butterfly at 27.71 and ninth in the 100 free at 56.34, while Kerryn Mullin was sixth in the 100 individual medley at 1:05.60.
The next action for the Bison and Lady Bison is Dec. 13 at the Chesapeake Elite at Oklahoma City Community College. The OBU divers return to action Friday at the Arkansas Invitational.