Alumni, Faculty Honored at Homecoming Chapel
November 12, 2012
OBU honored outstanding alumni and faculty and Dr. Hance Dilbeck offered a message of reflection during the 2012 Homecoming Chapel Saturday, Nov. 10, in Raley Chapel.
The university recognized recipients of the Profile in Excellence Award, given to former students who have "demonstrated recognizable accomplishment in his or her profession, business, avocation, or life service in such a way as to bring pride and honor to the University." The university also inducted its second Faculty Hall of Fame class during the service to honor former OBU faculty members who were master teachers, making a significant impact on OBU students.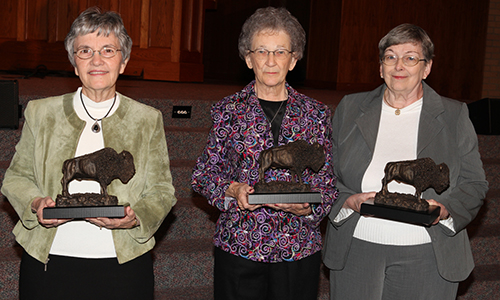 Recognizing leaders among alumni, the Profile in Excellence award recipients were Jennifer Cloyde, a 1983 graduate from Sherwood, Ark.; Joel Engle, '90, Roanoke, Texas; Col. Gordon Groseclose, '76, Alexandria, Va.; Dr. John Hughes, '63, Coronado, Calif.; Tom Jordan, '70, Mason, Ohio; Jami Smith King, '93, Nichols Hills, Okla.; Dr. James Webb Jr., '95, Tulsa, Okla.; and John Young, '56, Sapulpa, Okla.
Inductees into the OBU Faculty Hall of Fame included Manoi Adair, Dr. Laura Crouch and Mary Kay Parrish.
Dilbeck, a 1987 OBU alum, serves as pastor of Quail Springs Baptist Church in Oklahoma City. He drew his message from John 15, in which Jesus says, "I am the true vine, and my Father is the vinedresser. Every branch in me that does not bear fruit he takes away, and every branch that does bear fruit he prunes, that it may bear more fruit. Already you are clean because of the word that I have spoken to you. Abide in me, and I in you. As the branch cannot bear fruit by itself, unless it abides in the vine, neither can you, unless you abide in me. I am the vine; you are the branches. Whoever abides in me and I in him, he it is that bears much fruit, for apart from me you can do nothing."
As a freshman at OBU, Dilbeck said the Baptist Student Union director, David James, challenged him and others to memorize John 15.
"I oftentimes thank the Lord for the wisdom that David James had to focus us early on that vital text about Christian discipleship," Dilbeck said. "And I'm amazed about how my perception of those words changes from season to season in my life."
For chapel messages, follow this link.
At age 18, Dilbeck said he sometime struggled with what Jesus' tone of voice might have been when he gave the command, "Abide in me." Oftentimes, Dilbeck said he imagined Jesus speaking in a sharp tone of correction. The thought caused him to respond to the Scripture with a sense of fear.
While he was a student in graduate school, however, Dilbeck read the verses imagining Jesus spoke in an even tone of instruction about how to "bear fruit" as a disciple of Jesus. His response, rather than fear, was a sense of ambition.
During the past decade of his life, Dilbeck said he when he reads John 15, he hears Jesus speaking in a warm tone of invitation by his Blessed Master.
"Jesus opens his arms and invites sinners like us into an intimate, abiding love relationship," Dilbeck said. "It certainly does make us productive, but that's kind of a by-product and not the focus. … What I heard as a young man as a warning or a command or an instruction, now I hear as an invitation: Abide in me."