Alum Jami Smith: Just Part of a Puzzle
November 7, 2012
The Profile in Excellence award is given by the OBU Alumni Association to a former student who has "demonstrated recognizable accomplishment in his or her profession, business, avocation, or life service in such a way as to bring pride and honor to the University." Each year, Profile In Excellence recipients are featured in OBU Magazine.
Recording music in a studio on Friday and leading worship at a conference on Saturday are not parts of a typical mother's schedule. But for Jami Smith, a 1993 OBU graduate, these activities are part of just one more exciting weekend on the calendar.
Smith is known throughout the world for her musical ability, leading worship for churches, conferences, schools and retreats, as well as having recorded a multitude of albums. Early in life, she knew she was called to this type of profession; she just wasn't sure where to start.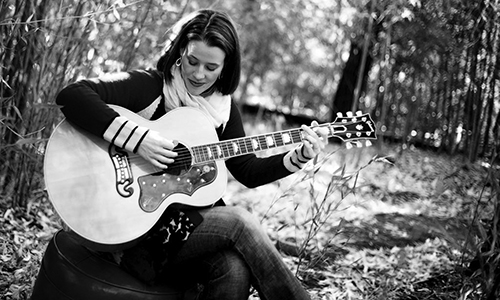 Like most high school graduates, when Smith graduated, she planned on attending college. She had paid her deposit and was anxiously waiting for her freshman semester to begin. However, before she left for college, her pastor at Sharon Baptist Church in Chickasha, Okla., asked if she had considered attending OBU. He encouraged her to visit the university and pray about the idea. She followed his advice and visited the campus with her mother alongside.
Throughout the campus tour, Smith felt a strong, growing conviction that this was the place for her to study, learn and grow. Her mother felt it, too.
Smith pulled her deposit from the other school and was granted a music scholarship at OBU. When classes began, she learned her professors wanted her to thrive both inside and outside the classroom. She enthusiastically involved herself in intramurals and became an "intramural fanatic," playing five sports in one semester.
During this time, God also placed influential professors, staff and friends in her life. She acknowledges her music professors, Dr. Nancy Cobb Lippens and Jim Brown, and her student minister, Odus Compton, as being huge impacts in her academic and spiritual life.
"I grew so much during my time at OBU," Smith said.
"God extended his hand and placed people around me that had such a vibrant relationship with God, and I wanted that, too."
Her professors pushed her to always do her best. Any work submitted that was partly done, or where she had not given her best effort, was unacceptable. These strict expectations helped mold Smith from an inexperienced undergrad to a well-known worship leader and recording artist who has traveled the world for the last 20 years.
"I never get used to the fact that when I'm leading worship, I'm helping petition a holy God," Smith said. "That is such a powerful gift.
"I never want to take for granted that I get to be a part of a life-changing experience for people. When I'm leading worship, I want to become a forgotten person, a part of the puzzle, which leads others to God."
Smith and her husband, Justin King, have two children, Emory, 3, and Griffin, 1. When she's not traveling, she and her family attend Bridgeway Community Church in Oklahoma City.
Click here to view a list of others who have received the Profile in Excellence award.