Van Gogh Parody Portraits on Display
October 26, 2012
Steve Hicks, an OBU professor of art, has always admired Vincent van Gogh's work, but recently he took his interest a step further by creating an entire show's worth of paintings in homage to the great artist.
The paintings, which include a matching theme and name for each, are imitations of Van Gogh's own self-portraits. Van Gogh created 34 self-portraits in his short career, each of which consisted of different techniques, colors and distortions.
Hicks found a unique way to re-create the portraits with a twist. Rather than simply copying the paintings, Hicks crafted amusing interpretations of works: "Day-Glo Van Gogh," "Arapaho Van Gogh" and "Bass Pro Van Gogh" appear alongside nine other of Hicks's Van Gogh re-designs.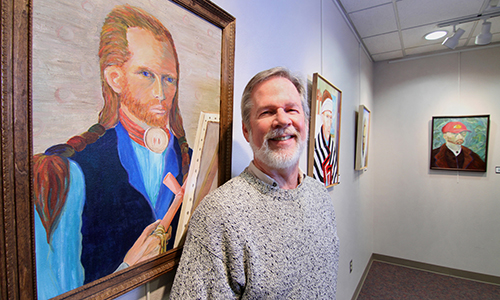 "I thought it would be interesting if I could explore some of the techniques Van Gogh used in his portraits," said Hicks.
The idea for the collection originated when Hicks' son came up with words that rhymed with "Van Gogh." Hicks said he thought Van Gogh would look funny wearing a straw hat, so he created his first portrait of the set, "Okie Van Gogh." From there, Hicks decided to continue his humorous interpretations of the somber artist's self-portraits.
Hicks explained his gallery of work is designed, in part, to show students they can discover different ways of studying subjects, including building on past works. He said re-interpretation is instrumental in learning; many people have looked at historical works, but new information can still be gathered from them.
Van Gogh's gloomy demeanor clashes terrifically with Hicks's comical versions of the paintings.
"You don't have to be solemn to be serious about something," said Hicks.
The gallery, on display at the OBU Art Department, is open to the public during the weekdays from 9 a.m. to 5 p.m. and will be on display through Nov. 5.