Students Take Computer Science Out of the Classroom
October 26, 2012
Students at OBU take advantage of the education they receive on Bison Hill by utilizing skills learned in the classroom in a professional environment. During the past months, students in the computer science programs have embraced opportunities to serve as interns and staff members for numerous companies while completing their bachelor's degrees.
Reese Rogers, a senior computer science major, is employed at the Zeeco, Inc., headquartered in Broken Arrow, Okla. Rogers, who seeks a degree with a business management emphasis, is enrolled in 15 hours of study at OBU and five hours at Louisiana State University. Originally from California, Rogers moved to Claremore, Okla., with his parents when he was 13. He was interested in computers at an early age, beginning computer science classes when he was just a freshman in high school.
Having worked at Zeeco for more than three years, Rogers puts his education into practice by engineering, testing and building combustion systems.
"Without OBU, I could not imagine trying to do my day-to-day job," said Rogers. "My project plans at work reflect my Systems Development project plan that I learned here at OBU."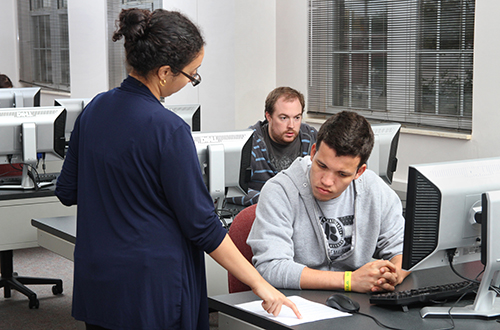 He has filled several job roles in the Zeeco information technology (IT) department, ranging from junior help-desk technician to his current title of IT developer. Rogers said his learning experience at OBU has opened doors for career opportunities and prepares him for advancement in his field.
"I will use everything I have learned while at OBU for the rest of my life," he said.
Michael Kelly, a sophomore from Paradise, Texas, works in the campus computer lab and also as an online mathematics tutor for Tutor.com. The Web-based company, located in New York City, is a growing company with tutoring fields available in mathematics, science, history, English, accounting, economics and other subjects. Kelly said he finds tutoring people in mathematics exciting because he never knows who he will get to work with or what kind of problems he will receive.
Austin Germiller, an interdisciplinary science major with an emphasis in physics, said he enjoys the creative side of science programming. A senior from Parachute, Colo., Germiller had the opportunity to attend a Research Experience for Undergraduates (REU) program at Marshall University in Huntington, W.V., during the 2012 summer semester. The first half of the summer involved a great amount of research, Germiller said, which allowed him to gain "background knowledge of the physical model we would later simulate." The second half of the summer involved the programming of the model.
"I love how your creativity and critical thinking can be combined in order to solve a problem," said Germiller.
Lauren Christian, a senior computer science major from Cypress, Texas, began her studies at OBU as a vocal worship arts major, but she changed her major to computer science during her junior year.
"I decided to change my major because I have always found computers easy and fun to use, and I had a desire to learn more about them and what made the certain software I was using," Christian said.
Christian served as an intern at Hitachi Consulting in Houston, Texas, during the summer semester. Hitachi Consulting specializes in helping clients adjust databases, which can mean anything from building news databases to implementing new software to meet the company's needs. During her internship, Christian was placed at a client site where they implemented an Oracle database.
"My particular subgroup was the projects team," Christian said. "We worked solely with the 'Oracle Projects' application. I did a lot of research about different types of billing our client would use for their company."
Michael Chadwick, a senior computer science major from Parker, Colo., has applied the skills he has learned at OBU with Air Traffic Simulation, Inc., a small software development company in Norman, Okla. Air Traffic Simulation, Inc., develops software to look and feel like the systems air traffic controllers used in control towers at airports.
"We work in conjunction with the FAA (Federal Aviation Administration) to bring experienced controllers into our facilities to run simulations for new procedures or for training," Chadwick said. "We record everything the controllers do and analyze the results for the FAA. … I learn new things all the time, and it is really cool to see concepts learned in class applied to real-life coding."
Chadwick has worked for the company since February 2012, and he plans to continue his work there after he graduates from OBU.
Chelsea Jordan, a junior computer science major from Shawnee, Okla., is another computer science major who became interested in computers at an early age. She began her computer training at OBU with Java programming.
"I will admit that I was a little scared going into it," Jordan confessed. "But, much to my surprise, programming came naturally to me."
Employing her computer science skills, Jordan worked for GO Consulting Services for more than a year. She initially began as a Web developer but gained more responsibilities as her abilities grew. During times of low employment in the company, Jordan learned how to do network cable termination, fiber optic termination, patch panel assembly, computer repair, and an array of administrative tasks.
"The experience I gained at this business was so much more than I had originally bargained for," she said.
For all these computer science majors, practical experience has enhanced the education they are earning on Bison Hill.