Parents, Siblings Invited to Family Day Oct. 6
October 3, 2012
OBU invites the families of students to visit Bison Hill during Family Day on Saturday, Oct. 6. Family Day gives parents a chance to visit their child and tour the campus. Registration for the event starts at 10:30 a.m. in the upper level of the Geiger Center.
Families can get a fresh start on the day by utilizing the Recreation and Wellness Center (RAWC), with a free day of fitness starting at 8 a.m. The Tree of Life bookstore will open at 9:30 a.m. and will remain open until 3 p.m. Parents will have an opportunity to meet with their student's professors beginning at 11 a.m.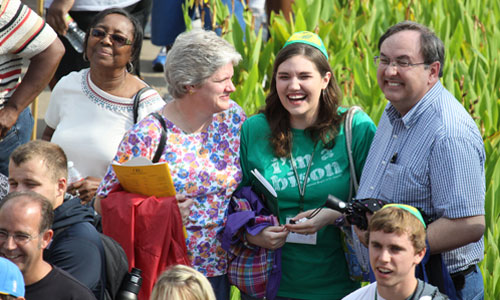 Starting at noon, families are encouraged to either support the Lady Bison soccer team as they take on Lubbock Christian University at the soccer field, or families can go to a Bison tailgate party near the OBU track. The Bison football team will have their first inter-squad scrimmage in more than 60 years at 1 p.m. on the track infield. Families also can cheer on the Bison men's soccer team at 2 p.m. as they play a game versus LCU.
During "Saturday Shopping in Shawnee," families can visit local diners, shops and businesses. Residence halls will be open from 3-6 p.m. for tours. "Dinner with the Dean" will take place from 4:30-6 p.m. in the Laura Scales Cafeteria, where Family Day participants will enjoy a free meal with Brandon Skaggs, dean of students.
The Campus Activities Board will wrap up Family Day with Freshman Follies at 8 p.m. in Raley Chapel's Potter Auditorium. The annual variety show features skits and other performances presented by members of the OBU Freshman Class. After the show, younger brothers and sisters of the same gender (age 9 and older) are invited to "Sibling Sleepover," where siblings can spend the night in their brother's or sister's room.
For more information about Family Day, call the dean of students' office at (405) 585-5250, or go online for a full schedule and to register.