OBU to Host 29th Annual Pops Concert Oct. 13
October 4, 2012
OBU's Symphonic Winds and Bison Jazz Orchestra will present the 29th annual Pops Concert on Saturday, Oct. 13, at 7:30 p.m. in Raley Chapel's Potter Auditorium.
"The theme for this year's concert is 'The Music of America,'" said Dr. Kevin Pruiett, director of the Bison Jazz Orchestra. "We are looking forward to another great performance, and to introducing Dr. Neal to the Shawnee community.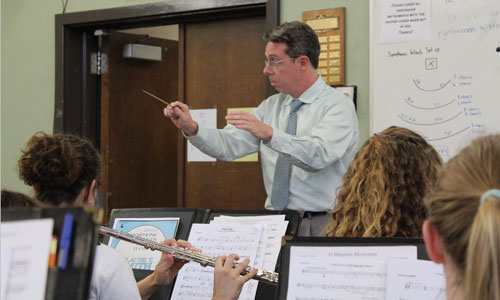 The Symphonic Winds, in its first year under the direction of Dr. Christopher Neal, will be performing works by Clare Grundman, Frank Ticheli, Jack Stamp and John Philip Sousa. According to Neal, Ticheli's "Sundance" captures the American spirit with bold melodies and energetic rhythms. Jack Stamp's "Pastime - A Salute to Baseball" contains many tributes to some of the great names in the history of baseball.
"It's playoff season in Major League Baseball, and, as we salute our American culture, what is more American than baseball?" said Neal.
The Bison Jazz Orchestra, directed by Pruiett, will perform big band selections by jazz greats Count Basie and Duke Ellington, as well as the music of Frank Sinatra and Sammy Davis Jr.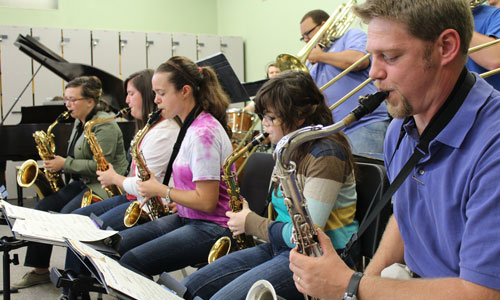 "Jazz is America's music," Pruiett said. "By performing the music of Count Basie and Duke Ellington, we are celebrating the music that helped to shape America during the 20th century."
The Bison Jazz Orchestra's portion of the concert will also feature vocalist Karlie Clifford and soloists Sadie Elliott, Spencer Davis, Matthew Smith and Jessica Stone. Clifford and Elliott are from Oklahoma City; Davis is from Pine Bluff, Ark.; Smith is from Shawnee, Okla.; and Stone is from Catoosa, Okla.
Dr. Dan Reeder, OBU Geiger professor of finance, will once again serve as the master of ceremonies.
"I am pleased that Dan will once again be the Emcee for the Pops Concert," Pruiett said. "His personality, sense of humor and his 21 years in the Shawnee community make him a great addition to the program."
The Shawnee community is invited to attend the fun-filled, family-friendly concert. Tickets are $5 for adults, $3 for students and children, and free for children under age 2. As in the past, each ticket comes with a bag of candy.
"We hope that everyone can attend this family event," Pruiett said. "It is a wonderful opportunity for the Shawnee community to enjoy great music in a relaxed environment."
Tickets will be sold at the door. Group rates are available. For more information, call (405) 878-2322.