OBU Theatre Opens Nov. 1 with 'Diary of Anne Frank'
October 17, 2012
OBU's Theatre Department will begin its 2012-13 season with a production of "The Diary of Anne Frank," an adaptation from the diary of an adolescent girl living through the Holocaust in Amsterdam. The premiere is Thursday, Nov. 1, at 7:30 p.m., in Shawnee Hall's Craig-Dorland Theatre on the OBU campus.
Other performances will be presented Nov. 2 and 3 at 7:30 p.m., Nov. 4 at 2:30 p.m., Nov. 8 at 7:30 p.m., and Nov. 10 at 2:30 p.m. "The Diary of Anne Frank" is most appreciated by audience members ages 12 and older.
Written by Frances Goodrich and Albert Hackett, "The Diary of Anne Frank" is a dramatic portrayal of two Jewish families struggling to remain hidden from Hitler's Nazi regime. Both heart-warming and sobering, "Anne Frank" is filled with poignant, life-affirming lessons.
"Anne Frank reminds us - regardless of race, religion or ethnicity - of the power of faith, hope and belief," said Dr. Jeffrey Wells OBU associate professor of theatre and director of the production. "As a learning community, it fits who we are and opens many avenues of discussion."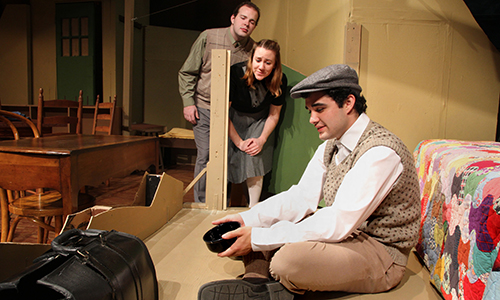 The principle performers include: JemiJean Jones, a senior theatre and family life major from Del City, Okla., as Anne Frank; Abbie Beeler, a sophomore theatre major from Tulsa, Okla., as Margot Frank; Robert Mills, a junior theatre major from San Antonio, Texas, as Mr. Frank; and Avery Ketchum, a junior theatre and anthropology major from Bixby, Okla., as Mrs. Frank.
The cast also includes Michael Dunn, a freshman math education major from Stroud, Okla., as Mr. Van Daan; Julie Studstill, a sophomore theatre and psychology major from Arlington, Texas, as Mrs. Van Daan; Trevor Rodman, a freshman theatre major from Tulsa, Okla., as Peter Van Daan; Tony Quintana, a freshman theatre and youth ministry major from Oklahoma City, Okla., as Mr. Dussel; Madison Daniel, a junior interdisciplinary major from Kingman, Ariz., as Mr. Kraler; and Sarah Barrett, a senior theatre major from Greeley, Colo., as Miep.
The production technical director and set designer is David Kenworthy, assistant professor of theatre, with makeup design by Avery Ketchum and lighting design by Tim Frymire. The production stage manager is Joy Fait, with Bethany McWilliams and Olivia Seamans as assistant stage managers, Justine Kirby as house manager, and Sherrod Donnelly as the assistant house manager. Public relations manager is by Sarah Barrett, with Cierra Cyphers as the box office manager.
Tickets will go on sale for the OBU community and the public for all performances on Oct. 22. General admission is $5 for students and $10 for adults. Group rates also are available. Season passes will be sold for the 2012-13 theatre season at $12 for students and $25 for adults. Tickets are available through the OBU Box Office, located in Sarkeys Telecommunication Center. The Box Office is open from Monday-Friday, 9 a.m.-4:30 p.m.
For more information or to purchase tickets, call (405) 878-2347 or send an email here.