OBU Named Five-Star Champion of Character Institution
October 24, 2012
OBU has again been named a Five-Star Champion of Character Institution by the NAIA.
"We take seriously the five core character values of the Champions of Character program and are committed to developing leaders in our athletic programs," said OBU Director of Athletics Robert Davenport.
OBU's Champions of Character program is diligently overseen by Campus Minister Dale Griffin. Each of OBU's 21 sports participate in community service, team Bible studies and character development assemblies.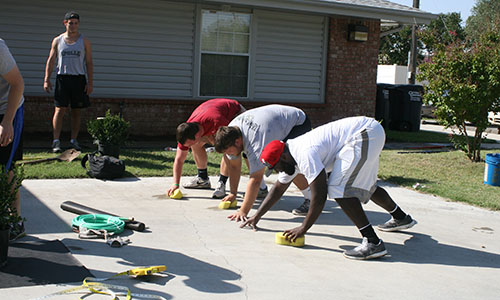 Institutions are measured on a demonstrated commitment to Champions of Character and earn points in character training, conduct in competition, academic focus, character recognition and character promotion.
Institutions earned points based on exceptional student-athlete grade point averages and personal conduct in the community, as well during competition throughout the course of the academic year.
The scorecard process is based on the NAIA's flagship program Champions of Character, which emphasizes the five core values of integrity, respect, responsibility, sportsmanship and servant leadership.