OBU Launches Athletics Website Redesign
October 24, 2012
OBU athletics will reveal its new website design Wednesday, Oct. 24.
The site will have most of the same functionality, but features a more graphically-pleasing look overall and a schedule that is easier to navigate.
"After looking through what's out there, we tweaked a few things that we liked and challenged the engineers at SIDHelp to come up with a customized application that would make our site pop," said OBU sports information director Ray Fink, who supervised the work. "Chele Marker-Cash and Lane Castleberry did the background graphics that really give the site the 'wow factor' we were hoping to get. Those two really went above and beyond and we're excited about the end product."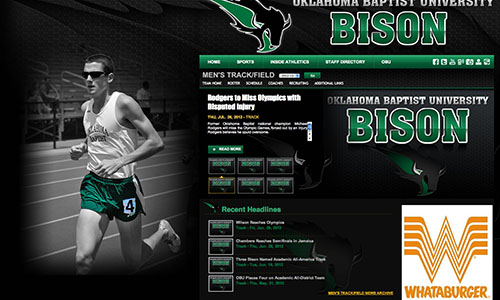 The OBU athletics website has not had a redesign since 2006.
"I'm biased, but I think we just went to the front of the class," Fink said. "I like this look more than any I've seen at our level. SIDHelp and the OBU communications department really did a fantastic job."
Visit the website by clicking here.