Nursing Alum Serves on Mercy Ship
October 9, 2012
Preparing in calm to respond in crisis: Pacific Partnership 2012, a major humanitarian aid and civic mission which operated in the Asian-Pacific region, built its recent work on that theme as it embarked on a four-month endeavor. The partnership included multiple government agencies, 13 partner nations, and, at its heart, the United States Naval Ship Mercy.
Kelly Scatton, a 2010 nursing graduate from OBU from Lake Forest, Calif., served as a volunteer nurse aboard USNS Mercy for the entirety of the 2012 Pacific Partnership. Her responsibilities included working in the intensive care unit and the intermediate care unit, and providing light surgery care and wound care.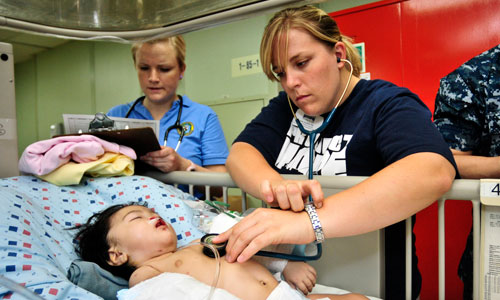 "Mercy," a converted tanker, served as a fully functioning hospital with 12 operating rooms, a full laboratory and a radiology department with an MRI and state-of-the-art imaging.
With a medical staff of more than 1,200 personnel, Mercy's mission was "focused on building capacity, building relationships to respond to natural disasters and so forth," said Captain Jim Morgan, the mission commander, on the ship's website.
Beginning its adventure in San Diego, Calif., Mercy departed from the continental United States on May 1. The ship first sailed to Pearl Harbor, Hawaii, and then stopped in Guam before reaching its first major destination: North Sulawesi, Indonesia. Over the course of the Pacific Partnership, Mercy made two-week stops in various locations in the Asian-Pacific region including Indonesia, the Philippines, Vietnam and Cambodia. The region is susceptible to massive floods, volcano eruptions, earthquakes and tsunamis, and it is home to many people groups without access to medicine or medical aid.
In response to the region's needs, Mercy delivered high-end medical, dental and engineering support wherever the ship anchored. The USNS Mercy crew conducted more than 900 surgeries, evaluated and treated more than 49,000 people and provided more than 7,000 veterinary services, the U.S. Department of Defense reported.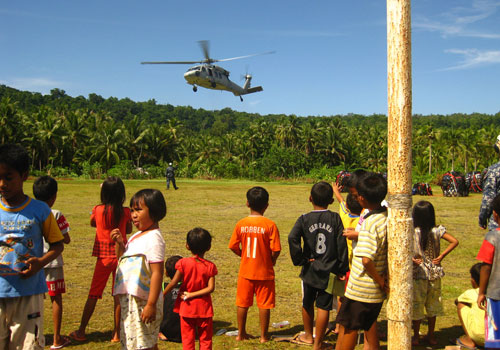 "Many surgical specialties were represented by what we brought," said Navy Capt. (Dr.) Tim Hinman. "It included ophthalmology, general surgery, ear, nose and throat, pediatric surgery and OBGYN."
The joint mission on board Mercy included service members from the United States Army, Navy, Air Force and Marines, as well as civilian mariners, non-government organization civilians and foreign military partner nation personnel.
"I think because this is a joint military and civilian mission, everyone has done their best to integrate everyone into a cohesive group as soon as possible," said Scatton. "I think everyone has embraced the fact that this isn't just a Navy mission, an Army mission or a military mission, but a mission for everyone to work together for the good of those we are helping."
While surgeries did take place on ship, many clinics were run on shore. Volunteers and personnel on the mission treated hundreds of patients each day the on-shore clinics were open. On one particular day in the Talaud Islands of Indonesia, medical staff treated more than 350 patients, teaching them about vitals and basic assessments. Scatton played a key role on that day, teaching the waiting crowds about high blood pressure, its symptoms, and how to prevent it. The lessons served a large percentage of the population in the Talaud Islands who suffer from high blood pressure.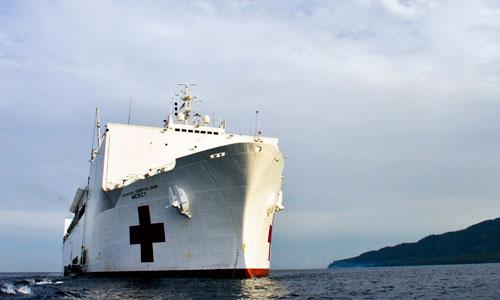 "I truly enjoyed teaching the patients about their medications and discussing symptom management," said Scatton, who also treated many patients with tuberculosis, leprosy, tumors, goiters, deformities and ulcers.
The patients were thankful for any service and help provided by the USNS Mercy, she said. In areas where even basic medical attention is limited, Mercy's aid was vital to patients' well-being.
Scatton said the trip was especially important to her because of the global experience and new perspective of the world she gained.
"I will never complain about working four days in a row again!" she said. "Here on the USNS Mercy, each person works a 12-hour shift each day. This mission has taught me a great amount of humility."
Before the mission, Scatton had never been outside of the United States. Her work with the Pacific Partnership was a perfect way to visit countries for the first time while reaching out and offering hope to many people in need.
For more information about Pacific Partnership, Click Here.