Mudliar Installed to OBU's Dickinson Chair of Religion
October 3, 2012
Dr. Ishwaran Mudliar was installed to OBU's Dickinson Chair of Religion during a weekly chapel service Wednesday, Oct. 3, in Raley Chapel's Potter Auditorium.
During the ceremony, OBU Provost Stan Norman presented Mudliar with a certificate in recognition of exemplary scholarship and excellence in teaching. OBU President David W. Whitlock presented Mudliar with the medallion representing the chair.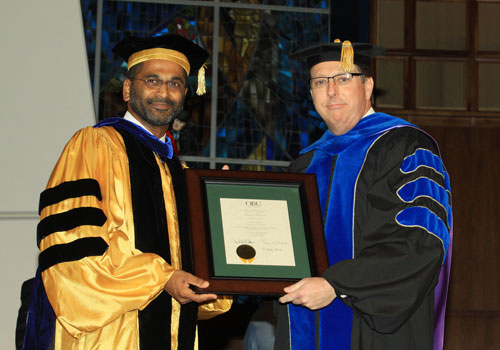 According to Norman, endowed chairs and professorships are awarded to select professors who are outstanding teachers and who have demonstrated exceptional ability in their academic disciplines. The gift which provides an endowed academic position is invested in the University's permanent endowment fund, and the annual earnings are used to assist with compensation. OBU currently has 27 active endowed chairs and professorships.
The Dickinson chair was established in 1986 by Paul Dickinson, the founder and executive officer of wholesale automotive parts business based in Ardmore, Okla. Dickinson was awarded an honorary doctor of laws degree by OBU in February 1988. He died in January 1991. OBU's College of Business is named in Dickinson's honor.
The faculty member who holds the Dickinson Chair of Religion post will teach religion courses to those entering the ministry and other church-related vocations and will provide instruction in the area of practical Christian ministries.
The third recipient of the Dickinson Chair of Religion, Mudliar joined the OBU faculty in 2012 as associate professor of religion. He received his doctorate in Hebrew Bible and Northwest Semitic Languages from Johns Hopkins University in Baltimore. He received a master of arts degree from Johns Hopkins University, a master of divinity from Trinity Evangelical Divinity School and a bachelor's degree in theology from Union Biblical Seminary.
Mudliar has taught at the collegiate level for the past nine years, most recently as an assistant professor of Old Testament at Southwestern Baptist Theological Seminary. Prior to his teaching career, he served as an associate pastor, youth minister and associate pastor of family ministry and outreach.
He and his wife, Hannah, have three sons: Daniel, Aviel and Mikhael.