Library Rolls Out Technology Advances
October 17, 2012
OBU strives to remain on the forefront of an era filled with technological advances. To make information discovery more convenient for OBU students, the university's library catalog is now searchable from within Facebook, the first of several tech-based changes at the Mabee Learning Center.
In the United States alone, nearly 168 million people use Facebook, and college-age students make up the largest percentage of this group.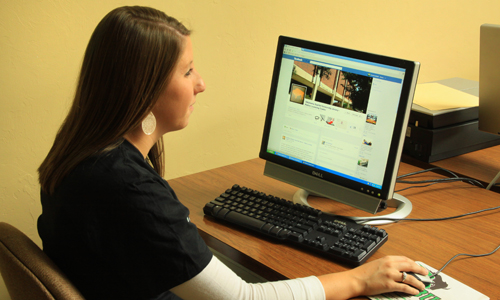 Paul Roberts, dean of Library Services at OBU, recognized an opportunity to reach OBU students through social media. By making the library's catalog searchable via Facebook, Roberts made an effort to push Library Services into a place college students can easily access.
"It's the platform where students reside," said Roberts, noting he wishes to focus on making the university's library more "patron-centered."
In addition to helping users access the library catalog on Facebook, OBU's library delved into the world of Twitter this year. Students following the Mabee Learning Center's account on Twitter can receive information about the services offered at library and references to materials about visiting speakers, memorable days in history and current event topics.
Roberts said the emphasis on technology includes the future development of embedded search boxes on OBU-related websites. The search boxes will access books, journals and articles and sort them by relevance. In a few months, Roberts hopes the search boxes become "one place where you can find everything."
The Mabee Learning Center also values trained librarians who help students develop competency in their scholarly pursuits, Roberts said. Alongside the library staff, OBU faculty members play a role in the development of the Mabee Learning Center. The faculty helps librarians choose the material appearing in their respective fields of expertise.
"We want to provide not just discovery and technology services, but real assistance to students from the OBU campus to students in Oklahoma City," Roberts said.
The library staff is developing chat widgets where any OBU student can receive assistance from a librarian without actually stepping foot in the Learning Center. Roberts hopes students will connect more efficiently and conveniently with information they need. Simultaneously, the Mabee Learning Center is converting its rich collection of artifacts and manuscripts into online resources, increasing OBU's academic exposure.
Roberts said the library also is pushing to help students connect to resources normally outside their reach. The focus will shift to the access of information as opposed to ownership of books, journals and articles. With this divergence from a normal library system, students will be able to borrow resources from most libraries in North America.
Within the library, Roberts looks to expand commons areas for students to engage in study groups. Rather than the library being stacks of books and hushed voices, it will become a place where students can gather with resources to learn together. With these new developments, Roberts said, the library is uniquely positioned to foster community.
"The library is not about books," Roberts said. "The library is about the user."
The patron-centered mindset of the Mabee Learning Center includes plans to provide both Macs and PCs for students who are familiar with the different operating systems. Workshops will be available for students wishing to refine their research skills. Furthermore, Roberts said he aims to set up a specific station where students can quickly and easily print resources. He hopes this streamlining of library services will enhance the experience of all users of the Mabee Learning Center.
The Mabee Learning Center staff encourages the OBU community to "like" the library's page on Facebook and follow the Learning Center's account on Twitter for up-to-date information on available library services and any upcoming events.
"Like" the Mabee Learning Center's Facebook page, or follow them on Twitter.