Diary of Anne Frank' Opens Nov. 1
October 31, 2012
"The Diary of Anne Frank," an adaptation from the diary of an adolescent girl living through the Holocaust in Amsterdam, will open OBU's 2012-13 theatre season Thursday, Nov. 1, at 7:30 p.m., in Shawnee Hall's Craig-Dorland Theatre on the OBU campus.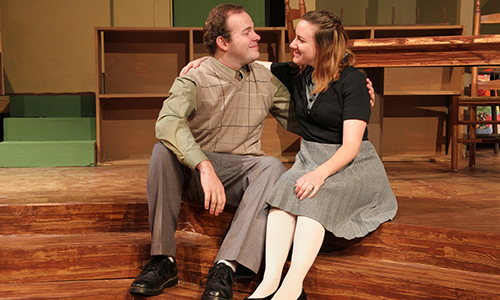 Other performances will be presented Nov. 2 and 3 at 7:30 p.m., Nov. 4 at 2:30 p.m.; Nov. 8 at 7:30 p.m.; and Nov. 10 at 2:30 p.m.
Tickets are now on sale for all performances. General admission is $5 for students and $10 for adults. Group rates also are available. Season passes are $12 for students and $25 for adults.
Tickets are available through the OBU Box Office, located in Sarkeys Telecommunication Center, from Monday-Friday, 8:30 a.m.-4:30 p.m. Some tickets will be available at the door prior to the performances.
For more information or to purchase tickets, call (405) 878-2347 or email THEA@okbu.edu.