Bisonettes to Sing in Tulsa Nov. 18
October 22, 2012
OBU's Bisonette Glee Club will sing at First Baptist Church, Tulsa, Okla., on Sunday, Nov. 18, at 6 p.m. The community is invited to attend the service.
The church is located at 403 S. Cincinnati Ave. in Tulsa.
The concert will feature sacred music from various periods of music history and a multitude of styles of composition. Included in this program will be spirituals such as "My Soul's Been Anchored," a Moses Hogan arrangement, and "Hold On," arranged by Jay Broeker with percussion and bass. OBU alumnus Michael Cox ("Rock of Ages") and the late J. Paul Williams (text for "God of Wonders") are also featured on this program.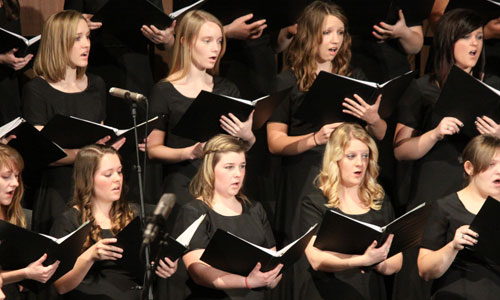 The Bisonette Glee Club is an auditioned women's choir open to all female undergraduate students. The group was organized in 1954 by Warren M. Angell, then dean of the College of Fine Arts. Members represent a number of academic areas of the University, including ministry, science, nursing, business, and fine arts. The group performs at many churches, schools and campus events, as well as staging tours throughout the country. The group is conducted by James Vernon, professor of music, and this year's choir is being accompanied by Taylor Thompson, junior family services major from Shawnee, Okla.
For more information about the Bisonette Glee Club, contact the OBU Division of Music at (405) 878-2305.
For more information about First Baptist Church, Tulsa, click here or call (918) 587-1571.