Bisonettes to Sing in Shawnee
October 15, 2012
OBU's Bisonette Glee Club will sing at First Baptist Church, Shawnee, on Sunday, Oct. 28, at 10:45 a.m. The community is invited to attend the service, located at 227 N. Union Ave.
The Bisonettes include some of the finest vocal musicians on the OBU campus. The all-female group was organized in 1954 by Warren M. Angell, then dean of the College of Fine Arts. Members are selected by audition and represent a number of academic areas of the University. The group performs at many churches, schools and campus events, as well as staging tours throughout the country.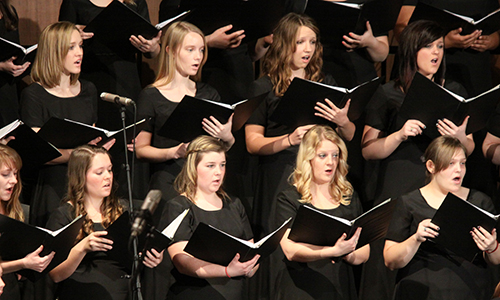 The group is conducted by James Vernon, professor of music. Vernon has served OBU since 1990 as an instructor in choral music, music theory and music composition. He also served as chair of the OBU Division of Music from 2000-09. Vernon earned degrees from Old Dominion University in Norfolk, Va., and Southwestern Baptist Theological Seminary in Fort Worth, Texas.
For more information about the Bisonette Women's Glee Club, contact the OBU Division of Music at (405) 878-2305.
For more information about First Baptist Church Shawnee, click here or call (405) 275-6111