Bennight to Perform Harpsichord Concert
October 16, 2012
OBU's Warren M. Angell College of Fine Arts will welcome harpsichordist Brad Bennight in concert Tuesday, Nov. 6, at 7:30 p.m. in Raley Chapel's Yarborough Auditorium. The community is cordially invited to attend the free performance.
Dr. Bennight will perform the Dedicatory Recital on a new harpsichord purchased for OBU by a generous gift from benefactor Burton Patterson, a 1956 OBU alumnus who also endowed a chair in music. Patterson and Dr. Paul Hammond, former dean of the College of Fine Arts, collaborated to make the gift possible.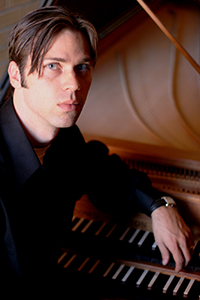 "I feel blessed to have Burton in our corner for OBU music as we grow students into elite performers and scholars," said Dr. Kristen Stauffer Todd, chair of the Division of Music. "He understands what we're doing and our mission, and he is generous in his work toward making that happen."
The harpsichord was built by Ted Robertson of Bloomington, Ind. Robertson has a strong reputation among colleges and universities for providing them with historically accurate instruments, Todd said. The new OBU instrument is a Flemish-style, double-manual harpsichord with multiple stops (including a lute stop) built based on a 1745 Dulcken instrument. The instrument has the requisite 8-foot and 4-foot registers and approximately five octaves.
"The addition of the Robertson harpsichord increases our resources in this area tremendously," Todd said. "Our other harpsichord, built by former chief academic officer Bill Neptune, was in honor of longtime piano faculty member Clair McGavern. It is a very fine instrument, but is in a different style of building. Adding this instrument increases opportunities for students."
Todd said the new harpsichord provides piano majors with more options as they're learning early music, and vocalists and instrumentalists will have the chance to perform with the accompanying instrument many of their works originally demand. She said OBU's early music ensemble, Consort Rubrica, also will use the new instrument in their performances.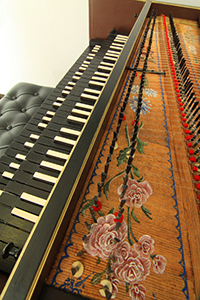 OBU is home to a new harpsichord.
"The Robertson harpsichord, generously provided by Burton Patterson, will enrich OBU students' education and performances with its wider range of sound possibilities," Hammond said. "It is a first-rate instrument handmade by one of America's finest harpsichord builders. The McGavern harpsichord served us well for many years, and it will continue to do so in the future."
Bennight will perform the dedicatory recital on OBU's new instrument. He has been lauded as an exciting and versatile harpsichordist, receiving praise for his "perfectly balanced imagination and unobtrusive support" by the Dallas Morning News and as "admirable - attentive, deft, idiomatic on both organ and harpsichord" by the Santa Fe New Mexican.
He has taught harpsichord and continuo at Baylor University since 2003, and in 2010 was appointed adjunct professor of harpsichord at the University of North Texas. He earned a doctorate from the University of North Texas, where he studied harpsichord with Lenora McCroskey and harpsichord and fortepiano with Christoph Hammer.
Equally comfortable at the harpsichord, clavichord, organ and fortepiano, Bennight has become a sought-after soloist and collaborator. He has presented numerous concerts at the Boston Early Music Festival, Berkeley Early Music Festival, performances in Mexico at the inaugural Festival de Musica Barocca in San Miguel d'Allende, as well as in Queretaro and Guanajuato, the International Festival of Early Music in the colonial cities of Bolivia, and in Cusco, Peru.
As a continuo player, Bennight has appeared with many of the most recognized artists in the early music field, including Rachel Brown, Henning Vater, Cynthia Roberts, Niklas Eklund, Simon Standage, Christopher Hogwood, Ryland Angel, Brent Wissick, Jennifer Lane and Paul Leenhouts. Bennight has performed with many period-instrument ensembles throughout the United States and abroad, including Calmus Ensemble Leipzig, Dallas Bach Society, Texas Camerata, Orchestra of New Spain, Mercury Baroque, La Folia Austin, Denton Bach Society, Fleurs de LYS and Texas Early Music Project. He has performed at Emmanuel Episcopal Church in Boston with Christopher Hogwood, as pianist and harpsichordist with the Santa Fe Desert Chorale, and in master classes with London Baroque.
Not exclusively an early keyboardist, Bennight frequently appears as an ensemble director, directing from the harpsichord. He performs with La Novella Baroque, a period-instrument ensemble he formed in 2004 with the aim of exploring much of the forgotten chamber and orchestral repertoire of the 17th and 18th centuries.
Bennight's discography includes work on a series of recordings of the complete harpsichord works of Johann Ludwig Krebs which will continue over the next two years, the first to be released this year. Solo recording projects of works by C.P.E. Bach and Scarlatti also are forthcoming. He also can be heard on the Dorian label with the Orchestra of New Spain performing little known masses of Spanish Baroque composer Francisco Courcelle.
Click here to learn more about Bennight's work.
To learn more about Ted Robertson's harpsichords, go here.
For more information about the concert, contact the OBU College of Fine Arts at (405) 878-2306.