Missionaries in Residence Focus on Relationships
September 20, 2012
Michael and Sharon Wright are accustomed to building strong relationships, even when the odds are stacked against them.
The couple lives in Taichung, Taiwan, as International Mission Board representatives reaching out to a culture that bears the highest divorce rate in the world and doesn't readily receive "Western ways." Michael Wright works as a marriage and family therapist at the Center for Counseling and Growth, which serves ministers and local church leaders from all denominations. Sharon helps lead workshops and builds healthy relationships with the Taiwanese people. All the while, the Wrights are open to any opportunity to share about the ultimate relationship a person can have with God through Jesus Christ.
At OBU, the Wrights are taking a year away from their normal mission assignment -- a furlough called "stateside assignment" -- to build relationships on Bison Hill. Their goal is not only to help OBU students consider how they personally can be involved in missions, but also to connect with international students as well as the children of international missionaries who attend OBU. In addition, Michael is teaching an Old Testament history and literature course during the fall semester and a New Testament course in the spring.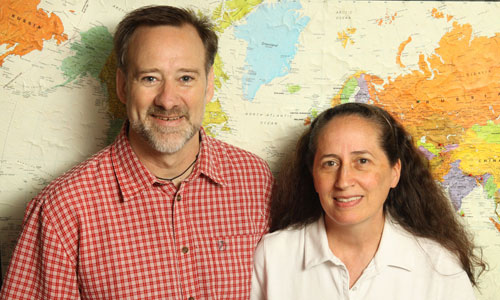 The Wrights are no strangers to OBU, and they are quickly becoming acquainted with Shawnee. Michael earned his master's degree in OBU's first marriage and family therapy program in 2002. Their son, Andrew, joined OBU's Class of 2016 last month, and their daughter, Annie, is a junior at Shawnee High School.
The family knows firsthand the importance of engaging in a collegiate or post-graduate missions endeavor: Michael and Sharon met while serving through the International Mission Board's Journeyman program after graduating with bachelor's degrees from Oklahoma State University. Michael served in Hong Kong, and Sharon served in Brazil. He later earned a master of divinity degree from New Orleans Baptist Theological Seminary. The first 10 years of their missionary assignment in Taiwan focused on student ministry, where they worked to plant a new church among the collegiate population. The church just celebrated its move into a new building.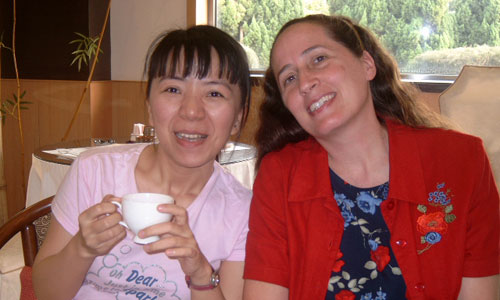 Through their most recent assignment with the Center for Counseling and Growth, the Wrights work to help local churches be healthier.
"You can't be spiritually healthy and relationally unhealthy," Michael said. "Taiwan has gone from being an impoverished country to a wealthy nation within a couple of generations. The result is a low birth rate, a high divorce rate and widespread dysfunction within families - and the society in general."
The Wrights work with the counseling center and local churches to offer workshops which address some of the needs facing Taiwanese families. The Taiwanese people typically are closed to discussions about the Gospel message, but they are very receptive to marriage and family education, especially parenting workshops.
The workshops give the Wrights an opportunity to build healthy relationships with the Taiwanese people. When they can, they share their personal faith in Christ with their new friends. Michael also provides clinical supervision of Chinese students who have completed education in the United States and are completing a practicum in Taiwan.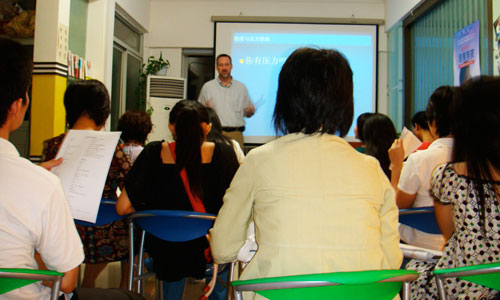 The Wrights' goal is much the same at OBU: to meet students at their point of need, whether that means providing guidance about missions opportunities or understanding what it is like to live as an international person in a different culture.
"We want to build relationships with anyone interested in missions to help them find and fulfill what God wants them to do with their life, whether that is giving, praying or going, short-term or long-term," Sharon said. "We also want to help 'missionary kids' on campus as they learn how to be third-culture kids in the United States."
The Wrights are serving through OBU's Hobbs College of Theology and Ministry, in conjunction with the Avery T. Willis Center for Global Outreach. Click here for more information about OBU's GO Center.