Enrollment Hits 12-Year High
September 19, 2012
OBU announced a growing enrollment of 1,979 students for the 2012-13 academic year, a gain of 108 students over last year's enrollment of 1,871. The new count is the highest enrollment at OBU since 2000, when the student population sat at 2,017.
The freshmen class includes 506 students, an increase of 6.3 percent from a total of 476 first-time freshmen last year. This year's class was the second largest in school history and the largest since 1988 when the record was set at 518. The average ACT score for first-time freshmen was 23.5.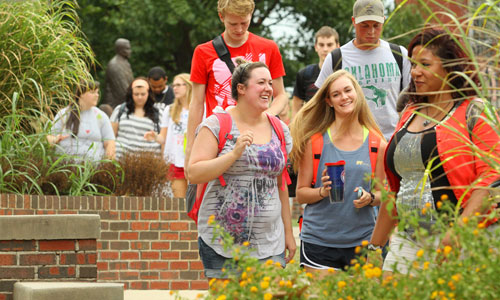 The 2012 overall enrollment figure includes students from 37 states and 26 other countries. The numbers reflect an additional 175 students from within Oklahoma who are attending OBU this year, for a total of 64 percent of the student body population. About 15 percent of the students come from Texas. The international student population includes 33 students from Brazil and 23 students from China.
"The growing student body on Bison Hill reflects a healthy appreciation for a Christian liberal arts education by both students and their parents," said OBU President David Whitlock. "We remain steadfastly committed to provide an environment in which students learn to integrate Christian faith with all academic disciplines."
"As always, we appreciate the dedication of Bruce Perkins and his Enrollment Management team," Whitlock said. "Each team member is committed to helping students engage in the mission of OBU. We congratulate this team on its continued excellence."
The total enrollment includes 110 transfer students. The enrollment included 1,852 full-time undergraduate students. Full-time students are enrolled in at least 12 credit hours for the semester.
"We are thrilled that more and more students from Oklahoma, across the country and around the world choose to continue their education at OBU," said Dr. Stan Norman, provost and executive vice president for campus life. "We strive to provide the highest quality Christian education for our students with faculty members who are exceptional in their academic disciplines, and the continued rise in enrollment confirms the academic excellence OBU embraces."
The enrollment total included 76 students enrolled in OBU's Graduate School, which operates in Oklahoma City offering master's degrees in business administration and nursing. The total also includes 89 off-campus students who study through OBU's Joe L. Ingram School of Christian Studies.
Eighty-three students are enrolled in special programs at OBU, including the Intensive English Program, the LifeLong Learning Program, students from St. Gregory's University taking classes at OBU and others.