Chorale to Sing in Oklahoma Churches Oct. 14
September 11, 2012
The University Chorale, one of OBU's premiere vocal ensembles, will sing in two worship services in northeast Oklahoma on Sunday, Oct. 14. The performances are free, and the community is invited to attend.
The Chorale will sing at First Baptist Church in Jenks during the 9 a.m. and 10:30 a.m. worship services. The church is located at 11701 S. Elm St., Jenks, OK 74037.
Also on Oct. 14, the Chorale will sing at Memorial Heights Baptist Church in Claremore during the 6 p.m. worship service. The church is located at 1500 W. Will Rogers Blvd., Claremore, OK 74017.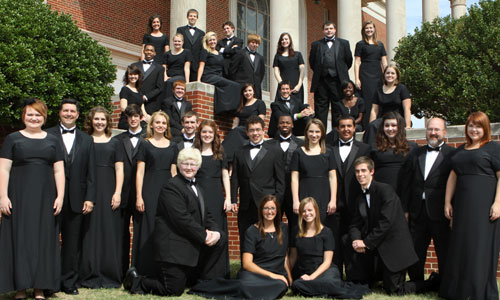 Since the University Chorale's founding in 1963, the group has been comprised of some of the finest singers on OBU's campus selected by audition. The choir's primary purpose is to "present advanced choral literature to the OBU campus and community."
University Chorale is in demand for performances across the state and maintains an active performing schedule on and off campus. Within the past seven years, the Chorale has made appearances at the Church Music Workshop, the Oklahoma Music Educators Association In-service Workshop, Southwestern Baptist Theological Seminary and the Southwestern Division Convention of the American Choral Directors Association.
The Chorale is under the direction of Dr. Brent Ballweg, Burton H. Patterson professor of music and director of choral activities at OBU. He received a bachelor's degree from OBU and a master's degree at Southwestern Baptist Theological Seminary. He earned his doctorate at the University of Missouri-Kansas City. Ballweg is an active guest conductor, clinician and adjudicator for various festivals, music contests and workshops across the country.
Click here for information about First Baptist Church, Jenks, or call (918) 299-6323.
Click here for information about Memorial Heights Baptist Church, or call (918) 341-5952.