Two Faculty Members Join College of Fine Arts
August 24, 2012
OBU's Warren M. Angell College of Fine Arts has added two new faculty members beginning with the fall 2012 semester. David Kenworthy is an assistant professor of theatre and design technician, and Christopher Neal is an associate professor of music and director of bands.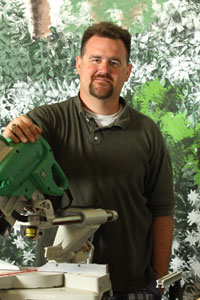 Kenworthy earned an associate's degree in education at Shasta College in Redding, Calif., and a bachelor's degree in theatre from Chico State University in Chico, Calif. He earned a master's degree in scenography from Humboldt State University in Arcata, Calif., where he served as a guest lecturer and teaching assistant.
He worked as technical director for Arkley Center for the Performing Arts in Eureka, Calif., from 2006-12, responsible for all backstage aspects of production: sound, lighting, fly rail, set construction, crew management, building maintenance and more. He also was an independent contractor with Wilson Events as a stage manager for shows at county fairs in California, Oregon and Washington. He previously was technical director for Ferndale Repertory Theater in Ferndale, Calif.
Kenworthy has directed scenic design, lighting design, set construction, lighting and sound for numerous university theater productions.
"David's educational background, professional experience and commitment to the performing arts in local church and community will be invaluable to what I hope will be generations of OBU students," said Dr. Ken Gabrielse, dean of the College of Fine Arts. "His infectious spirit and creative abilities shine through to everyone with whom he comes in contact. We will be a stronger arts and ministry community because God led David from California to Bison Hill."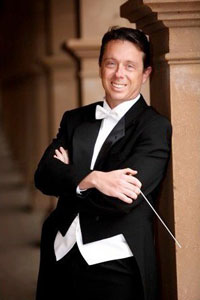 Neal earned a bachelor's degree in music education from the University of Oklahoma, and a master's degree in instrumental conducting from The University of Texas. He earned a doctorate in instrumental conducting from OU.
He is managing artistic director of West Winds Chamber Players in Oklahoma City. He previously served as director of bands and assistant professor of music at Washington State University in Pullman, where he coordinated a comprehensive NCAA Division I university band program at a Carnegie Research I institution. He also served as faculty advisor for Kappa Kappa Psi and Tau Beta Sigma national band fraternities and for the Collegiate National Association of Music Education chapter.
He was director of bands and associate professor of music at McMurry University in Abilene, Texas, for seven years, where he conducted the wind ensemble, symphonic band and chamber winds. In addition to teaching music courses, he also directed the marching band. He received the Outstanding Faculty award in 2007-08 and the McMurry University Pacesetter Award for Leadership in the Areas of Recruiting and Institutional Advancement in 2005.
At Temple University in Philadelphia, Penn., Neal was director of athletic bands and assistant professor of music education. He was a doctoral conducting assistant at OU; lecturer in music at Angelo State University in San Angelo, Texas; and assistant director of bands at Waco High School in Waco, Texas.
He is a member of the World Association of Symphonic Bands and Ensembles, the College Band Directors National Association and the National Association for Music Education. He is a frequent guest conductor and clinician throughout the United States. He also is active as a marching band drill designer and visual consultant for high school bands throughout Texas.
"When faced with an immediate need for an interim director of bands at OBU, I began calling other leaders in higher education around the state," Gabrielse said. "The first name mentioned was that of Chris Neal. He had just finished a contract at Washington State University and moved back to his home state to be near his mother as she battles cancer.
"God put us together - of this I have no doubt. His experience in high school, small and large universities, and with community instrumental groups made him a logical choice to come to Bison Hill to help us prepare for the future in instrumental music education in churches and schools. When you meet him, you know you are with someone who loves to teach and work with students. We are blessed to have Dr. Neal join us for this school year."
Learn more about OBU's Warren M. Angell College of Fine Arts.