Have Courage to be Content,' Orth Challenges Students
August 22, 2012
Despite whatever plans OBU students might have for grandly serving God, or despite whatever unpleasant circumstances they might encounter, Christian speaker Matt Orth told the students to have the courage to always be content and glorify God.
Orth presented his message to OBU students during a 2012 Fall Challenge chapel service Wednesday, Aug. 22, in Raley Chapel's Potter Auditorium. The first chapel messages of the semester, traditionally known as the "Fall Challenge," are a part of OBU's Welcome Week. Orth also will speak Wednesday, Aug. 22, at 6 p.m. and Friday, Aug. 24, at 10 a.m.
A native of Pennsylvania, Orth is a graduate of Toccoa Falls College. He has been in ministry for 20 years and currently is an itinerant minister for Crossroads Worldwide Ministries. He also is an elder who teaches frequently at Broad River Community Church in Boiling Springs, N.C.
Orth based his message in Philippians 1:12-21. In the passage, the Apostle Paul is in jail and writing a letter to Christian believers in Philippi to reassure them that, despite his imprisonment, he is content in his circumstances. Paul writes that his situation has resulted in two positive outcomes: People who otherwise would never have heard the Gospel message - the imperial guard - have heard the good news, and people who otherwise would not have preached were taking the opportunity to share the Gospel.
"Paul's prayer here is not to change his circumstances," Orth said. "His prayer is that Christ would be shown in those circumstances. … The majority of the time, we want to change the circumstances because we think changing circumstances will allow Christ to be exalted more. I think this is false. I think we should be saying, 'How can we exalt Christ in these circumstances in which we find ourselves? How can the death and resurrection of Christ be shown right now?'"
As a young Christian, Orth told the students he claimed Philippians 1:21 as his "life verse" - a Scripture he claimed as a manifest of his faith. The verse says, "For me, to live is Christ and to die is gain." Orth dramatically told how, as a young person, he imagined his life playing out: he would be a popular Bible teacher in a dangerous area of the world closed to a Gospel witness. He would be leading secret Bible studies when government soldiers would bust into the meetings demanding he recount his faith in Christ. He would yell, "Never! For me, to live is Christ and to die is gain!" as the soldiers fired their weapons.
In reality, Orth said, God does not predict a dramatic, exciting life or a martyr's death for his followers. For some Christians, life will be relatively anonymous in a small-town setting. Some will face a dream job, but others will face a tough job or no job.
In Orth's own life, his first youth ministry job included responsibilities for cutting the church's grass and cleaning up the sanctuary and multi-purpose space. One night, as he begrudgingly cleaned the sanctuary bathrooms and picked up candy-wrapper litter in the pews, he felt the Holy Spirit reminding him of his proclaimed life verse: "For me, to live is Christ and to die is gain."
"My prayer for you … is simple: 'Father, I want to have sufficient courage that, no matter where I find myself, the life, death and resurrection of Jesus Christ will be magnified by my attitudes, my actions and my conversations,'" Orth said.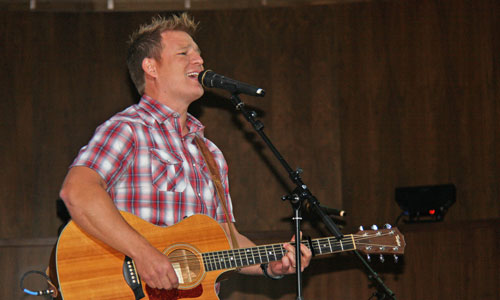 The message was couched in a time of praise singing by the students. Matt Roberson, a 2000 OBU graduate, is leading worship music for the Fall Challenge services. With more than 12 years of ministry experience, and having served in many capacities within the church, Roberson said he has a passion to see God's people encounter Him. A resident of Texas, he is the founder and chief visionary of Springboard Ministries, designed as a support ministry to help churches find creative solutions to reach their potential in the community in which they are planted.