Grad School Students Gain Global Perspective in China
August 23, 2012
In a world where information is immediate and technology changes at a supersonic speed, a global mindset is mandatory for successful business ventures. At the OBU Graduate School, an international business practicum in East Asia was an integral part of the curriculum for current MBA candidates.
Eighteen students working toward masters of business administration degrees through the OBU Graduate School traveled to Shanghai, Hangzhou and Beijing, China, July 7-15, to expand their business worldviews through the practicum. Led by adjunct professor Trish Zylstra, the group interacted with executives from international companies in China to learn how to conduct business on the international stage.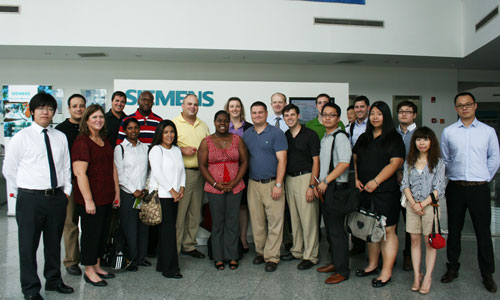 "Being that now just about every company and organization has some form of international makeup, this trip forced us to consider the international aspects of our industries and our world," said Scott Timmons, an MBA student from Shawnee, Okla. "China is especially unique due to its size, presence on the world stage, and a thought process that is very much foreign to Western thought."
Rubbing shoulders with executives and learning the cultural customs of the country offered the students an opportunity to discover what it would be like to conduct business transactions in a foreign country. They experienced firsthand both the benefits and drawbacks of international business.
"The purpose of the trip was to help students apply their book knowledge in the international business arena by visiting companies in China and exploring the possible ways to do business with China in their industry," Zylstra said. "On the trip, students learn business by doing business. They exchange business cards, meet prospective clients and begin forming relationships with Chinese executives."
Students visited several companies -- including Siemens Medical Equipment, Inventronics, Taomee Entertainment Network and the ELS Language Center -- and met with multiple executives while in China. The students also were introduced to local culture, food, transportation methods, markets and business etiquette during the practicum. They traveled on a high-speed train from Shanghai to Beijing and climbed the Great Wall.
During the trip, the students met with OBU President David W. Whitlock, who was traveling with executives from the Baptist General Convention of Oklahoma to lead business workshops and meet with executives and entrepreneurs in East Asia. The OBU students participated in a one-day business conference in Beijing and heard a business lecture from Whitlock. After the conference, they sampled Beijing's famous Peking duck. The menu included tofu, jellyfish, duck, vegetables and fried scorpions.
"One of the highlights of my trip was connecting with our MBA students in Beijing," Dr. Whitlock said. "Engaging directly with students is among my favorite activities, and spending time with them was a great opportunity."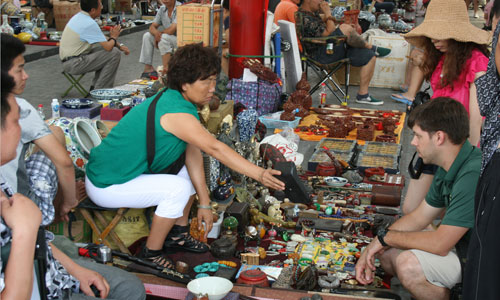 Zylstra created an "Amazing Race" style exercise in Beijing in which the students utilized all modes of available transportation and visited business highlights in a contest involving speed and budgetary constraints. For MBA student Jonna Raney, from Shawnee, Okla., the exercise proved to be the most interesting and most culturally educational part of the trip.
"We had several places that we had to find as teams, and we had to use all modes of public transportation and communicate with locals for directions and information," Raney said. "It gave us a good understanding of what it would be like to live in Beijing as part of the minority population."
Zylstra, who owns an international business and education company called The Harvest Abroad, said the international business practicum is a unique component of the OBU Graduate School's MBA program.
"Very few programs assist students in traveling internationally to get a hands-on understanding of the global economy," Zylstra said. "The Oklahoma Baptist University Graduate School offers a distinctive (aspect) by providing students the opportunity to travel internationally to understand international business."
Timmons said from a professional standpoint, the trip forced him to think bigger than he has thought before.
"One restaurant in which we ate appeared to have approximately 4,000 people eating at a time," he said, noting there is a difference in understanding the concept of large numbers and the reality of seeing such economic growth firsthand. "In Shanghai, it felt as though there were a thousand skyscrapers, and in one place I counted 20 cranes building new skyscrapers."
He said the magnitude of the surroundings was matched by the willing spirit of the Chinese people to work with businesses in the United States. While the two countries' governments might not see eye-to-eye at a macro level, Timmons said on a personal level, the Chinese businesspeople offered a welcoming spirit open to collaboration with Americans in the business world.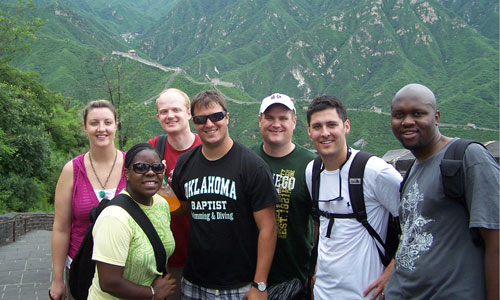 As the owner of Extreme Inflatables in Shawnee, Timmons said the experience provided him with multiple business ideas and granted him the confidence that he is capable of making international business transactions happen as a result of the trip. The journey was an invaluable asset from his MBA studies at OBU, he said, as the global marketplace does not appear to be shrinking anytime soon.
"This business trip sets our MBA program apart," said Dr. Scott Harris, director of the OBU Graduate School. "It truly allows students to learn about international business up close and personal rather than from a cold textbook. Whether our MBA students engage in international business directly after graduation or not, their perspective on business is never the same, and that makes them a valuable asset to their companies."
The cohort of MBA students will graduate with their degrees during OBU's December Commencement ceremony, with completion of all coursework slated for next Spring.
Visit the OBU Graduate School website to learn more about the master's degree programs.