Bison Football Conducts First Practice
August 27, 2012
OBU had its first football practice since 1940 Friday, Aug. 24, 372 days prior to opening kickoff, as the leadership class took the new practice field in Shawnee for the first time.
Ninety-one athletes hit the field off Airport Drive in Shawnee, going through a preseason combine that included sprints and agility among other aspects.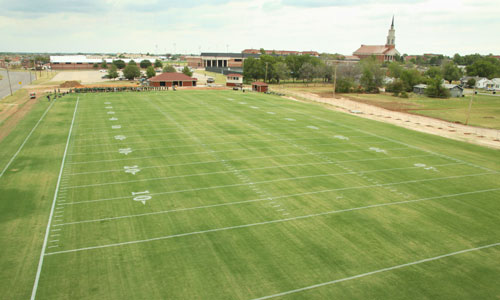 "It was exciting to do something out there together for the first time," said Head Coach Chris Jensen. "We just did some measuring and got some times, but it was much shorter than what we'll usually do. I'm not 100 percent sure where they are as far as conditioning but we'll find out Monday."
Just about all the athletes signed to play football were in attendance, including this week's signee Austin Haywood.
"I'm very pleased with this group," Jensen said. "This is a good collection of athletes. It was a pleasant surprise to get Austin this week."
OBU will have three intrasquad scrimmages this fall - Oct. 6, Oct. 17 and Nov. 3.
Click here for more about Bison Athletics.
Visit the OBU Facebook page to see more photos from the first football practice since 1940.