Alum Calvin Miller Dies at 75
August 20, 2012
A funeral service for Dr. Miller will be conducted at 10 a.m. Friday, Aug. 24, at Henninger-Hinson Funeral Home Chapel in Enid, Okla. The Rev. Deron Spoo will officiate. Burial will follow in White Cemetery in Hunter, Okla.
OBU alumnus Dr. Calvin Miller, noted author, professor and artist, died Sunday, Aug. 19. He was 75.
"Dr. Calvin Miller has influenced my life and ministry profoundly, first as an author, then when I was a bivocational pastor and sat in his seminars at Beeson Divinity's Pastors School," said OBU President David W. Whitlock. "His writing and many books are a gift to Christendom. His teaching has multiplied by the thousands his ministry of outstanding creative preaching. In fact, he was one of our featured speakers and teachers a few weeks ago at the newly re-established OBU Pastors School."
"In more recent years, Dr. Miller, the scholar, has become my dear friend, Calvin," Dr. Whitlock said. "I'll miss the author, the professor and scholar, but I will miss my friend Calvin the most."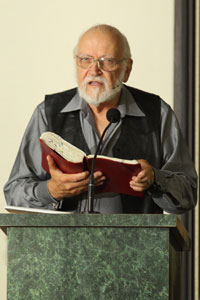 A 1958 OBU graduate, Miller was a popular speaker and a favored OBU presenter. He most recently taught ministers from across Oklahoma at OBU's Pastors School July 16-18 on the theme "Preach Like Jesus: Exposition Redefined," based on Matthew 13:34. He shared a humorous chapel message on Oct. 26, 2011, telling students he says, "Thank you, God," all the time and - when he's in a hurry - he simply says, "TYG." In 2010, he shared the first campus chapel messages of the semester, traditionally known as the "Fall Challenge," on the theme "Paul's Mere Christianity."
In his latest book, "Letters to Heaven: Reaching Beyond the Great Divide," Miller expressed his love and admiration to people he considered influential who preceded him into eternity. His letters were written in appreciation and admiration of many people, including some who are famous and familiar: C.S. Lewis, Oscar Wilde and Johnny Cash. He also wrote heartfelt letters to his mother and other people who were close to him personally. In the letters, he expressed his gratitude for the meaningful memories and lessons learned from inspirational people.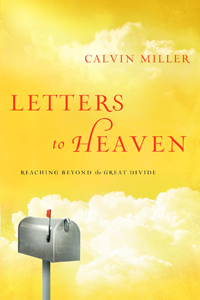 "This book is about seeing heaven as a place for wrapping up the unfinished business of earth," Miller said. "Beyond the grand gates, everything is resolved. Nothing is ragged at the edge; all the loose threads are tied up."
Miller was born in Enid, Okla., on Aug. 28, 1936. He graduated from Enid High School. He earned a bachelor's degree at OBU in 1958. He attended Midwestern Baptist Theological Seminary in Kansas City, Mo., graduating with a master's degree in 1961 and a doctorate in 1975. In 1959 he married Barbara Joyce Harman. They are the parents of two children: Melanie and Timothy.
His first full-time pastorate was Plattsmouth Baptist Church in Plattsmouth, Neb., from 1961-66. He went to Westside Church in Omaha, Neb., in January 1966, where he served as senior pastor for 25 years. During his pastorate the congregation grew from 10 members to more than 2,500 members.
From 1991-98, Miller served as professor of communication and ministry studies and writer-in-residence at Southwestern Baptist Theological Seminary in Fort Worth, Texas. In January 1999, he joined the faculty of Samford University's Beeson Divinity School in Birmingham, Ala., where he served as professor of preaching and pastoral ministry. After retiring in 2007, he assumed the role of research professor and distinguished writer in residence.
Miller is the author of more than 40 books of popular theology and inspiration. His poems and freelance articles have appeared in various journals and magazines such as Christianity Today and Campus Life. His books include "The Empowered Communicator," "Market-Place Preaching," "The Sermon Maker," "O Shepherd, Where Art Thou?" and "Preaching: The Art of Narrative Exposition." He served as an inspirational speaker in various assemblies and religious convocations, both in his own denomination and other Christian gatherings.
Miller said he believed in the primacy of evangelism for the church in every age. In his own church ministry he sought to be both a contemporary apologist, helping the church provide answers for a secular culture, and the equipper of the contemporary church for the task of missions and evangelism. His most recent books and articles dealt with spirituality as a journey and the pilgrimage which strives for union with Christ.
Click here for more information about Miller's work at Beeson.