400-Plus Students 'Serve Shawnee'
August 20, 2012
More than 400 OBU students took ministry efforts into the city Monday, Aug. 20, through "Serve Shawnee," an annual part of OBU's Welcome Week program designed to help new students engage the Shawnee community.
"Serve Shawnee" participants participated in a variety of service opportunities at about 15 locations city-wide including Shawnee Senior Center, Cargo Ranch, Jim Thorpe Academy, Community Garden, Hope House, Salvation Army, Good Shepherd, Family Promise, Project Safe, Project Gabriel, Calvary Baptist Church, Shawnee Early Childhood Center, Horace Mann Elementary School, Point in Time and Frontline. Projects included clean up, building fence, removing brush, mowing, painting, visiting the elderly, and interacting with youth and children.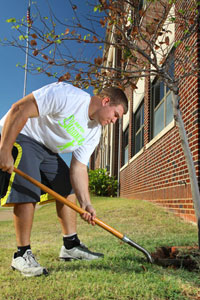 OBU student Kimes Gilbert, a math education major from Moore, Okla., landscapes the yard at Horace Mann Elementary School in Shawnee during "Serve Shawnee."
OBU students Jessica Masterson, a senior from Oklahoma City, and Carson Misner, a senior from Sapulpa, Okla., organized the service projects.
"With over 400 students working throughout the community, a great deal of good is done on the day of the project," Misner said. "But the true purpose of the project is to give new students a glimpse at the number and variety of areas they can serve. OBU students have a long tradition of community involvement, and Serve Shawnee allows students to test the waters and build connections that can lead to long-term community service."
The group was comprised of freshman and transfer students who arrived on campus Saturday, Aug. 18, and upper class Welcome Week Workers whose duties include acclimating new students to campus and the local community.
Welcome Week wraps for the new students with the traditional "Walk" from Shawnee Hall to Raley Chapel on Tuesday, Aug. 21; Spotlight on Shawnee on Thursday, Aug. 23; and "Live" Saturday Night @OBU on Aug. 25. Fall-semester classes begin at OBU Thursday, Aug. 23.