Students Encounter 'People of Peace' in South Asia
July 11, 2012
The coastal area of South Asia boasts a vibrant array of cultures, languages and religions. The region -- 9,500 miles from Shawnee, Okla. -- was the destination for a team of students from OBU sent on mission from the Avery T. Willis Center for Global Outreach May 22-June 13.
In the area where the team served, 70 percent of the people follow Buddhism. Others, whose ancestors have lived in the region for centuries, generally follow Hinduism. Minorities include Christians, Muslims and other religions. The OBU team of seven students and one faculty sponsor joined Southern Baptist representatives who work among the Moors (Tamil-speaking) Muslims, a people group which has little, if any, access to the Gospel of Jesus Christ.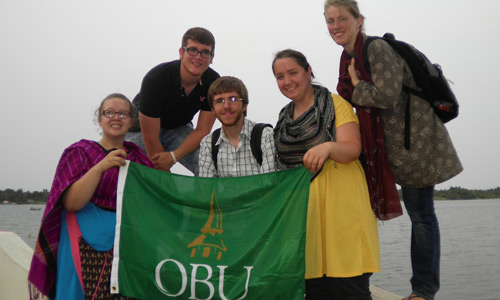 The goal of the trip was simple, yet powerful: The team walked through neighborhoods, praying for the people and asking God to provide "houses of peace" where they could share the good news of Jesus Christ. The concept is based on Jesus' direction to his followers in Matthew 10 and Luke 10.
Jesus commanded, "When you enter a house, first say, 'Peace to this house.' If a man of peace is there, your peace will rest on him. ... Stay in that house, eating and drinking whatever they give you. … Tell them, 'The kingdom of God is near you,'" (Luke 10:5-9, NIV).
"Our purpose was that simple!" said Dr. Bruce Carlton, professor of cross-cultural ministry at OBU. Carlton also serves as director of the Avery T. Willis Center for Global Outreach.
"The students discovered that this is a very simplistic, yet intentional, way to find people who are open to the Gospel," he said.
While team members endured blistering tropical heat - more than 100 degrees with high humidity each day -- they also discovered people who were welcoming and open to talking to the strangers from America. The beautiful country, generous people, spicy food and amazing scenery left a positive impression on the students.
"There were beaches everywhere!" said Abby Fuller, a junior nursing major from Gainesville, Texas, who grew up on the mission field in Africa. "It was some of the best sunrises and sunsets I have seen. You would walk into a person's house, and the first thing they would do is sit you in the best seats, run to the store to get some food, and serve you the entire time."
God provided both dramatic and commonplace experiences to allow the students to share their personal faith among the people of the region.
"We would get off of a bus, and walk around town praying that God would open up doors for us, and almost every time someone would invite us in to their house," Fuller said. "We would stay there, eat what they gave us (harder than you think), and share our personal testimonies with them. If they were still curious, we would share Creation to Christ with them. We were not looking for them to make a quick jump to Christianity, but rather to establish a bond so the missionaries and nationals could go in behind us and start a lasting ministry."
"Creation to Christ" is a method the students learned to use in sharing their personal faith with others. The method conveys the stories of God's relationship with humanity from Genesis through the life of Jesus Christ.
Carlton said every day, the team was invited into Muslim homes where they were able to share the Gospel freely. Every home he was in, Carlton said people listened to the team share their faith. At least one Muslim man came to faith in Jesus, and several others expressed genuine interest in hearing more and learning more.
"Seeing the students become more bold as each day went by was also very encouraging and rewarding," he said. "I believe God broke down some stereotypes about Muslims on this trip."
Team members helped Southern Baptist workers lead seminars to train local pastors and other church members how to share the Gospel with Muslims. The women on the team also participated in "henna ministry," a concept where they put henna on their own hands (and sometimes others') that told a Bible story. The art - popular in South Asia - became a bridge to tell people about the Gospel.
Even on their "day off," when the students traveled to visit a lighthouse on a beach, they prayed God would provide them opportunities to have conversations with the indigenous people. Walking down the beach, they saw a group gathered at the water's edge and realized a father had saved his daughter from drowning. OBU student Kyle Motsenbocker is a lifeguard in America, but his local Christian friend translated to the crowd that he was a doctor. The crowd parted, and Motsenbocker performed the Heimlich maneuver on the girl when he realized she had swallowed too much water.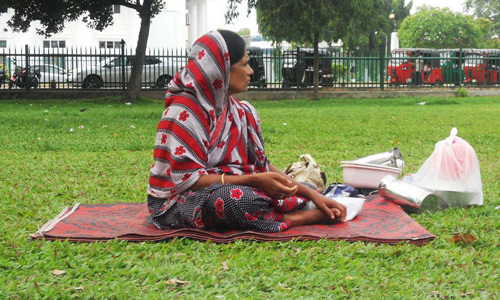 "After that everybody wanted to know why we were there and what we were doing," said Motsenbocker, a sophomore nursing major from Callisburg, Texas. "God allowed us to share with up to 40 people that day. He definitely was working the hearts of those that were there that amazing evening.
"I never thought I'd be using the skills I learned as a lifeguard and a nursing student in another country. God really does work in mysterious way."
Like any cross-cultural experience, the trip presented challenges and opportunities for growth. Each day was a test of faith in God's care and provision, Carlton said, noting the potential of physical persecution and opposition. But God demonstrated his faithfulness, his protection and his sovereignty every day, Carlton testified.
"The most challenging part of the trip was trying to find a way for the team as a whole to best overcome the shock of living in a new culture," said Joshua Caudill, a team leader from Winfield, Kan. "Every person on the team hit some bumps and had moments where we weren't sure what we were doing or were unsure if we were going to be able to handle the cultural differences, but in the end, we were all able to grow a lot."
Fuller said she found it challenging to be a woman in a male-dominated culture, especially in the Muslim areas. But the experience also created an appreciation for the women who live in South Asia.
"(The) women are some of the most amazing people I have met," she said. "They raise their families, cook meals and do so many things without complaint. Many wear Muslim garb in the hottest temperatures. I fell in love with these women because they are beautiful on the inside and out."
OBU's mission compels students to integrate faith with all areas of knowledge and to engage a diverse world. More than 60 OBU students, faculty and staff have embarked on Global Outreach (GO) Trips during the summer 2012 semester, sharing their faith around the globe under the leadership of Dr. Joy Turner, director of global mobilization.
"I think that the GO experience is invaluable to OBU students," said Caudill, a junior biblical languages major who plans to work overseas one day translating Scripture in areas that do not have Bibles. "For many students, these experiences can open their eyes and their hearts to the reality that God is calling them to go, perhaps more long-term, and to serve.
"And even for those God is not necessarily calling to live overseas, the experience of acclimating to a new culture is incredible, and there is no replacement for seeing first-hand what God is doing among the nations."