Art Professor Featured in Santa Fe Guide
July 9, 2012
Brad Price, adjunct professor of art at OBU, has been selected as the cover artist for the 2012 Centennial edition of the official Santa Fe Visitor's Guide. In the past decade, only two Oklahoma artists have been selected as the cover artist for the New Mexico magazine.
"As I looked at Brad's painting, I thought that it was quintessential Northern New Mexico … the simple house, the coyote fence, the sage brush and of course, the mountains," said David Coss, the mayor of Santa Fe. "I just thought, 'That was the one.'"
Price, who has been painting since 1985, said he is pleased with the selection of his painting as the guide's cover art.
"This is a great honor for me," Price said. "I never expected this to happen. A place that I have loved so much has made a gesture to love me back. I have enjoyed showing and selling my work for many years in the Santa Fe area. It is exciting that my paintings have become a part of the Santa Fe experience for people that visit there."
Price's work was honored during a reception at Art Exchange Gallery in Santa Fe in February. At the reception, Price and Jeff Tabor, the gallery owner, presented Mayor Coss with a signed, reproduction print of the original painting.
A resident of Norman, Okla., Price has an in-home studio where he produces landscapes. His first visit to the mountains as a small boy exposed him to the area around Cimarron, N.M., where he saw his first ponderosa pine and was captivated by the Palisades in Cimarron Canyon. Since 1972, he and his wife, Suzie, have made yearly visits to Colorado and New Mexico, building memory upon memory of the beautiful land. Since his days in art school at the University of Oklahoma, he was highly influenced by the early Taos painters and viewed their works at the Fred Jones Museum of Art, the Jacobsen Foundation and the Cowboy Hall of Fame.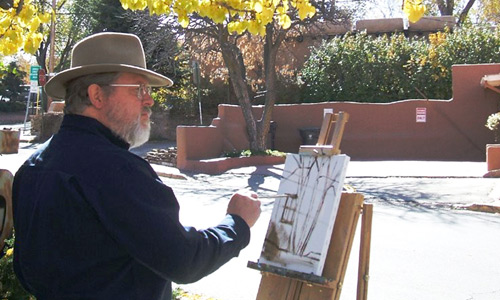 Twenty-five years ago, while living in Central America and South America, Price began his career as a gallery painter. Already an award-winning graphic designer, he began to experiment with impressionism and work in oil paint. While in Colombia, he and other artists made occasional trips into the Andes Mountains to paint.
Upon his return from South America in 1992, Price began his gallery career in the United States. He has since become a prolific painter. He generally employs the "alla prima" method in the studio, producing his paintings in one sitting. Outdoors he enjoys painting quickly, capturing the color and light of a moment in time. He has written a novel about this aspect of his artistic experience, a mystery novel titled "Murder in Plein Air".
Galleries that carry Price's work include Art Exchange Gallery in Santa Fe; Indigo Gallery in Madrid, N.M.; Cimarron Blue Gallery in Cimarron, N.M.; Tumbleweed Gallery in Amarillo, Texas; and Downtown Art and Frame in Norman.
His work can be viewed and purchased online.