Cox Named SAC Coach of Character
June 12, 2012
OBU's Bobby Cox has been named the Sooner Athletic Conference Coach of Character for 2011-12.
Cox, baseball coach at OBU for 27 years, led his team to get involved with assisting students at Dale Elementary School, fund-raising for breast cancer awareness and other community and team projects.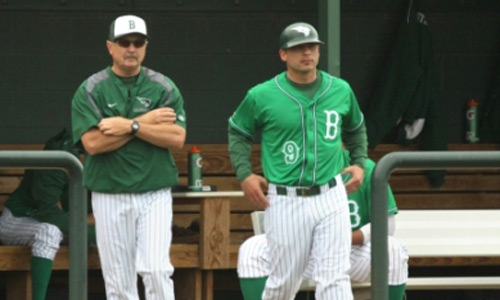 Cox is OBU's all-time leader in coaching wins in all sports, having led the Bison baseball team to 1055 wins through 27 seasons at the OBU helm. Cox is the only coach to take a Bison baseball team to the NAIA World Series. He has accomplished the feat in 1989, 1996 and in 2011. The team also reached the NAIA Opening Round in 2012.
His teams have never had a losing season. He has coached 18 All-Americans and 14 major league draftees.
Cox, who was inducted into OBU's Hall of Fame in 1996 and the NAIA Baseball Hall of Fame in 2011, was named Sooner Athletic Conference Coach of the Year in 1986, 1996 and 2011; District 9 Coach of the Year in 1986, 1989 and 1991; Area 3 Coach of the Year in 1989, Great Plain Region Coach of the Year (by the region and by the American Baseball Coaches Association) in 1996 and Region Coach of the Year in 2011.
As a player, Cox was an All-District performer for the Bison in 1979, leading his team with a .389 batting average while driving in a team-high 33 RBI in 34 games.
Cox and his wife, Lyn, have two sons, Bobby and Chris.