Russell Receives Meritorious Service Award
May 15, 2012
Dr. Norris Russell, OBU professor and chair of the Division of Kinesiology and Leisure Studies, was named the recipient of OBU's Meritorious Service Award during the university's Spring Commencement May 11.
OBU President David W. Whitlock announced the award for Russell, who joined the OBU faculty in 1981, during the graduation ceremonies before an overflow audience of more than 1,800 in the university's Raley Chapel.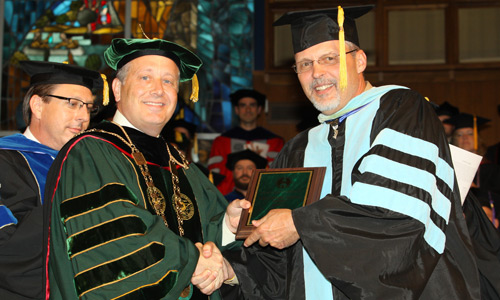 The Meritorious Service Award is presented annually to a faculty or staff member who has made a substantial commitment of years, service, and who has been a loyal and faithful faculty or staff member.
In presenting the award, Whitlock lauded Russell's service as OBU's athletic director for more than 20 years. Under his leadership, the Kinesiology and Leisure Studies Division has steadily grown, and OBU added new sports which greatly increased the number of student athletes.
"(Russell) was described by his son as the consummate athlete," Whitlock said. "His colleagues describe him as exemplifying the proper balance between academics and athletics and between administration and teaching. This balance provides an example not only for student athletes but for all who face challenges. He is faithful and loyal to OBU. He willingly and consistently goes above and beyond with no expectation of recognition."
Whitlock noted one of Russell's favorite sayings, a quote from St. Francis of Assisi: "Preach the Gospel at all times and, when necessary, use words."
Russell was the recipient of OBU's Distinguished Teaching Award, presented in recognition of "classroom excellence," in 1999.
He earned a bachelor's degree from Rice University and a master's degree and doctorate from East Texas State University. His dissertation was titled "The Effects of Biofeedback and Relaxation Response Training on Submaximal Exercise." He has presented articles on topics such as "Walking to Your Health" and "Trends in Health Attitudes and Practices Among High School/College Students" over the years. He has written the book, "Concepts in Physical Fitness: A Self-Pace Program to Improve Health Fitness," which OBU students use for the Concepts of Fitness course.
Within the community, Russell is a member of the Governor's Council on Physical Fitness and Sport Higher Education Committee and the American Heart Association Board of Directors. He is also a member of the Shawnee Chamber of Commerce Visitor's Bureau Region II Jr. College Basketball Tournament Committee.
Each year at Spring Commencement, OBU presents three important awards to recognize quality teaching and faithful, productive service: the Promising Teacher Award, the Meritorious Service Award and the Distinguished Teaching Award. Nominations for the awards are made by alumni, current students, faculty and administration. In addition to public recognition and a token of the university's appreciation, the recipients receive cash awards provided by OBU graduates John and Janet Hudson of Edmond, Okla.